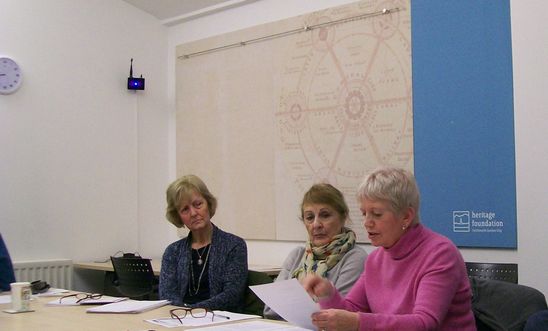 Photo taken during February 2015 meeting of AI's North Hertfordshire Group © CG (2015)
Why people joined...
Anja joined Amnesty North Herts group 'having observed Mike and the local AI group do wonderful work getting some of their prisoners released.  Why watch on the sidelines when I could help?'
Claire enjoys helping with stalls and other activities when she can. She likes to meet people with similar concerns, who want to do something to make a difference in the world.
Clemens joined the group because he is keen to meet local people who care about human rights. Together we can create more awareness for the plight of others.
David 'joined Amnesty International in 1985, after reading a book about the global human rights crisis and the work of Amnesty. In 2016 I felt compelled to rejoin a local group after reading constantly about hate crimes in the UK and around the world.  Amnesty enables people to work together at a local, national and international level to work with other citizens of the world to save and prevent people suffering human rights abuses in all its forms.'
Dominic was introduced to AI by a friend; he states that he is 'keen to oppose oppression everywhere - knowing from my knowledge of my wife's country Yugoslavia, the evils of a non-democratic government.'
Frances joined 'because I feel so strongly about injustice and wanted to do something.'
Hazel joined the group because 'I want to campaign against torture and human rights abuses everywhere and I wanted to meet like minded people'
Kathie writes: 'The reason I joined my local Amnesty International group is that I enjoy working with other local people on issues I feel strongly about.  I think it gives confidence that many small voices joined together can make a significant contribution to change….and this is encouraging and helps to keep me going when I might be tempted to give up.'
Max replied: 'Quite a few years ago I realised that I like writing and value the ability to communicate in this way. Reading about Amnesty's work, I realised that I was in the fortunate position of being able to write about pretty much anything without fear and that I felt it important to use that freedom to support those that couldn't. I was also rather fascinated by the idea that something as small as a letter could make a real difference.'
Mike joined AI 44 years ago after reading a book entitled I Chose Freedom written by Victor Kravchenko, a Soviet defector who told of the cruelties and starvation imposed upon the Ukrainians by Joseph Stalin's regime
Phil told us that: 'The first Amnesty international event I attended was the 1988 Festival of Youth at the Milton Keynes Bowl and this made me aware of the importance of the work AI does throughout the world. Having been a member for many years, I received an invitation to a local event in Letchworth where the speaker was a former prisoner of conscience from Burma who spoke of the torture he suffered at the hands of the authorities and this made me decide to join the local group and to help to make a difference.'
Rachel replied: 'I have always enjoyed going to the annual quiz with Phil & Regina and became increasingly aware through the years of the amazing things that "normal people"  who belong to Amnesty International do. It seems never has there been more media coverage about injustice in the world - people wrongly imprisoned for various reasons, injustice towards females, gay people, people with the "wrong" political views worldwide and now all the views on the worrying "migrant crisis" which affects everyone. It seemed the right time to join; and when I read about such amazing people as Albert Woodfox, I know it is.
Regina replied: 'When I was 14, The Anne Frank society held an exhibition at my school which made an enormous impression on me. By joining Amnesty, I'm hoping to raise awareness and help eradicate injustice and inequality.'
View latest posts