Saluting the Sun for Human Rights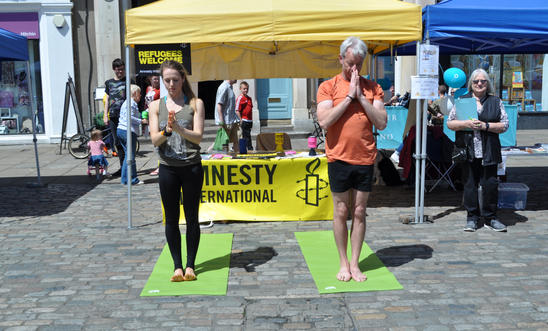 Yoga teachers Pippa and Rick doing sun salutations in Hitchin Market Square (3 June 2017)
Saluting the Sun for Human Rights
If you like doing yoga then you will know that a sun salutation is a series of movements and postures that are a good way to keep the body in shape and the mind calm and healthy. We have a special challenge for you on Saturday 24th June at the Yoga Shed which is near to Hitchin Station.
Ten local Yoga teachers have joined together to lead volunteers through 108 sun salutations. After each section a new teacher will take over providing a variety of styles so there is much to learn as well.
Volunteers will be asked to make a £10 contribution but can also raise sponsorship on how many salutations they can manage. If you would like to join in please contact The Yoga Shed on 01462 433597 and ask for Pippa.
The event is to raise money and awareness of human rights in the U.K. And throughout the world. The proceeds will be donated to Amnesty International. The local group of Amnesty meets at The North Herts Ethnic Minority Forum on Whinbush Road at 7.30 on the third Wednesday of each month except August and December.
View latest posts