Report: Christmas Tree festival at St Saviours, Hitchin (December 2013)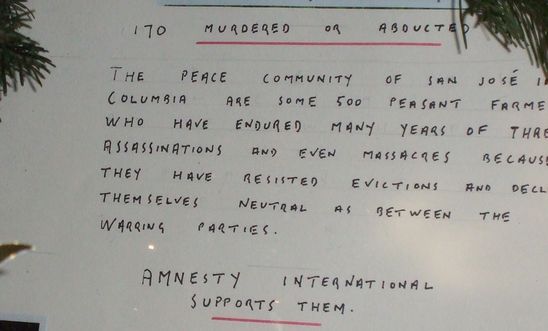 Message, AI UK North Herts. Group: Christmas Tree Festival, Hitchin (Dec. 2013) © A & M Mannion
Report: Christmas Tree festival at St Saviours, Hitchin (December 2013)
For the annual Christmas Tree festival at St. Saviours (Hitchin), Gina and Ruth decorated a tree on behalf of the AI UK North Herts Local Group. The theme of our tree was the Peace Community of San José de Apartadó, with the doves bearing the names of some of the victims of violence in this community. The text near the tree say:

San José de Apartadó

170 murdered or abducted
The peace community of San José de Apartadó in
Columbia are some 500 peasant farmers
who have endured many years of threats.
assassinations and even massacres because
they have resisted evications, and declare
themselves as between the
warring parties.

Amnesty International
supports them
 
The group is grateful to Gina and Ruth for their hard work and raising awareness for the human rights violations in such a beautiful way.
The 17th Hitchin Christmas Tree Festival runs from
Saturday 7th & Sunday 8th December
12.00 noon till 6.00 pm each day.  50 decorated trees; live music; hot and cold lunches and teas.  Admission £3, accompanied children free.
View latest posts