Public event on Modern Slavery: 23 June 2016, 7:30-9:00 pm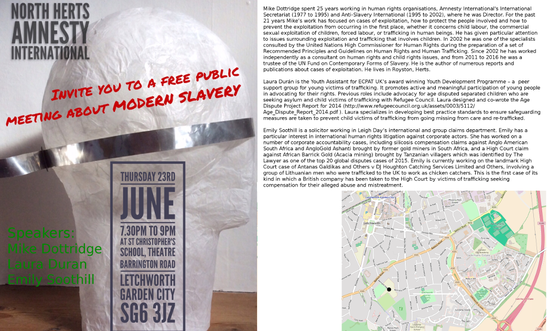 Poster advertising the event
North Hertfordshire Amnesty International Local Group
invites you to a public event on
Modern Slavery
at
St. Christopher's School, Theatre
Barrington Road, Letchworth Garden City, Hertfordshire, SG6 3JZ
 
on
Thursday
23 June 2016
19:30-21:00
with the following speakers
Mike Dottridge (former director of Anti-Slavery International)
Laura Duran (ECPAT UK - Campaigning against child trafficking & transnational child exploitation)
Emily Soothill (Leigh Day Solicitors, Human Rights team)
We will ask for a voluntary donation, and there will be light refreshments.
Mike Dottridge spent 25 years working in human rights organisations, Amnesty International's International Secretariat (1977 to 1995) and Anti-Slavery International (1995 to 2002), where he was Director. For the past 21 years Mike's work has focused on cases of exploitation, how to protect the people involved and how to prevent the exploitation from occurring in the first place, whether it concerns child labour, the commercial sexual exploitation of children, forced labour, or trafficking in human beings. He has given particular attention to issues surrounding exploitation and trafficking that involves children. In 2002 he was one of the specialists consulted by the United Nations High Commissioner for Human Rights during the preparation of a set of Recommended Principles and Guidelines on Human Rights and Human Trafficking. Since 2002 he has worked independently as a consultant on human rights and child rights issues, and from 2011 to 2016 he was a trustee of the UN Fund on Contemporary Forms of Slavery. He is the author of numerous reports and publications about cases of exploitation. He lives in Royston, Herts.
Laura Durán is the Youth Assistant for ECPAT UK's award winning Youth Development Programme – a  peer support group for young victims of trafficking. It promotes active and meaningful participation of young people in advocating for their rights. Previous roles include advocacy for age disputed separated children who are seeking asylum and child victims of trafficking with Refugee Council. Laura designed and co-wrote the Age Dispute Project Report for 2014 (http://www.refugeecouncil.org.uk/assets/0003/5112/Age_Dispute_Report_2014.pdf ). Laura specializes in developing best practice standards to ensure safeguarding measures are taken to prevent child victims of trafficking from going missing from care and re-trafficked.
Emily Soothill is a solicitor working in Leigh Day's international and group claims department. Emily has a particular interest in international human rights litigation against corporate actors. She has worked on a number of corporate accountability cases, including silicosis compensation claims against Anglo American South Africa and AngloGold Ashanti brought by former gold miners in South Africa, and a High Court claim against African Barrick Gold (Acacia mining) brought by Tanzanian villagers which was identified by The Lawyer as one of the top 20 global disputes cases of 2015. Emily is currently working on the landmark High Court case of Antanas Galdikas and Others v DJ Houghton Catching Services Limited and Others, involving a group of Lithuanian men who were trafficked to the UK to work as chicken catchers. This is the first case of its kind in which a British company has been taken to the High Court by victims of trafficking seeking compensation for their alleged abuse and mistreatment.
View latest posts