Moving and shocking eye witness account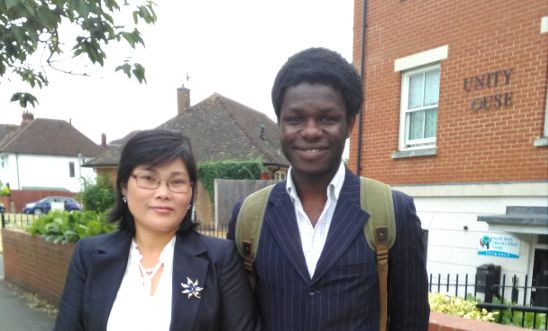 Jihyun Park and Kenny Latunde-Dada in Hitchin, after their talk on North Korea. © Photo by VR (18 July 2018)
Jihyun Park's story is one that is difficult for British people to comprehend. She has endured privation both in China and in her home country of North Korea. She escaped from North Korea and spent six years in China effectively as a slave. She has been trafficked and forced into marriage. Eventually she was arrested and sent back to North Korea and was confined to a labour camp where she endured the severest of treatment. She escaped a second time via Mongolia and now lives in Manchester.
Part of her harrowing story was how she managed to regain contact with her young son on the phone while she was still in North Korea. He had been told she had deserted him and would not speak to her. It took several calls before meaningful contact could be resumed. In the end, she was reunited with her son. [watch a video giving a summary of Park's story]
The moderator is Amnesty International UK's country coordinator for North Korea, Kenny Latunde-Dada, who lives in Welwyn Garden City.
View latest posts