Hinxworth Concert 2017 (3 Sept 2017)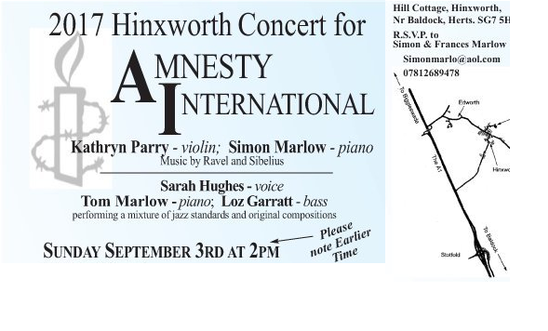 Part of poster for Hinxworth Concert 2017 © Original by SM, modified by CG
3 September 2017, from 14:00
- Music by Ravel and Sibelius for violin and piano (Kathryn Parry, vl ; Simon Marlow, pn)
- Tea/coffee & cakes served
- Jazz trio (voice, double bass and drums: Sarah Hughes, Tom Marlow, Loz Garratt)
in Hinxworth (near Baldock).
Suggested donation: £15
For more details see above's poster, or contact Simonmarlo@aol.com
We are asking for a donation of roughly £15 per person – young children free! Our music room holds about 30 people, but we are confident it will again be sunny and warm enough for many more people to spread out onto the lawn and listen from there.
We are sure that Human Rights and Human Responsibilities rank high in most people's wish list for a better world. But they won't materialise unless we make it happen! This is one reason why the work of Amnesty International is so important.
So:
Please support this fund-raising event!
Tea and cakes will be served – as ever
View latest posts