Group's new prisoner of conscience: Khalid M'touq (Syria)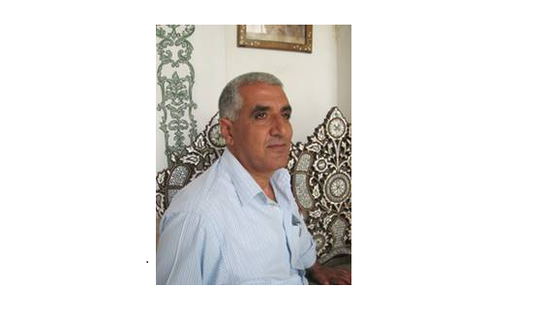 Khalid M'touq (Syria) © unknown photographer
Since October 2014 the North Herts Amnesty group have supported a new long term case, Khalil Ma'touq, a human rights lawyer. Every month the local group writes letters to campaign for the Syrian authorities to reveal the fate and whereabouts of Khalil and to grant him access to his family and lawyer, and also to grant Khalil access to any medical attention he may require.
Khalil Ma'touq, along with his friend Mohammed Thatha, disappeared on 2 October 2012.
A member of Syria's Christian minority, Khalil has been a human rights lawyer for many years. He has defended hundreds of political prisoners and prisoners of conscience, including many that went before the Supreme State Security Court (whose proceedings fell far short of international standards of fair trial and was abolished in 2011). Due to his human rights work, Khalil Ma'touq was banned from travelling between 2005 and 2011. He was unfairly sentenced in his absence in 2010 to two years' imprisonment but was not made to serve his sentence. He had recently travelled to France for medical treatment, and this may have aroused the authorities' suspicions.
Khalil Ma'touq's home is in Sahnaya, a suburb roughly 20km south of the centre of Damascus. Given Khalil's work as a human rights lawyer and the fact that there are several government-controlled checkpoints on his usual route to his office in the city, there were immediately concerns that he had been arrested by the security forces.
Since his disappearance, his family have been tipped off by various unofficial sources that he may be in various security branches, such as State Security branch 285 in Kafr Soussa, Damascus. In April 2013, his lawyer also received a tip-off from a member of the security forces that Khalil Ma'touq had been moved to an Air Force Intelligence branch in Damascus.
The Syrian authorities have not responded to the family's repeated requests to be told why Khalil Ma'touq was arrested and to provide them with information on his whereabouts and situation. After an official
inquiry by a group of fellow lawyers, the authorities' response, delivered by a Public Prosecutor in February 2013 in Damascus, was that they were not holding Khalil Ma'touq. The fact that he has been detained by state security forces but that at the same time the authorities deny that he is being held are key elements indicating that he has been subjected to enforced disappearance.
Amnesty International considers Khalil Ma'touq a prisoner of conscience, detained solely for his peaceful human rights-related activities.
For Khalil this detention is particularly dangerous as he suffers from advanced lung disease caused by a chronic inflammatory condition, which has resulted in him having severe breathing difficulties. He takes regular medication and, according to his family, must be under constant medical supervision. According to what his family and friends have been told, his health has gravely deteriorated during his detention.
View latest posts