Group working on behalf of Peace Community of San José de Apartadó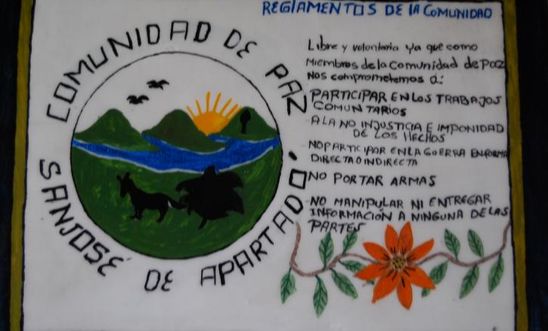 There are many victims of the armed conflict in Columbia but few have suffered more  than the inhabitants of San Jose de Apartado who live in small hamlets and who have pledged not to participate in the conflict between security forces and paramilitaries They have declared themselves in 1997 to be a " Peace Community". Unbelievably from that date they have been the focus of hostility from both sides of the conflict and more than 170 of their number have been murdered.
In February 2008 the Inter-American Court of Human Rights issued an order calling for immediate action from Columbia to guarantee the safety of the Peace Community members. The authorities have failed to take effective action to implement the Court's orders and thus falling short of obligations under international law.
In February 2013 they received a message that new killings were planned and that leaders of the Community were the target, and further that it would be advisable to keep the childrem off the streets. The threats came after a decision made by an administrative tribunal on 8th February 2013 declared that the Columbian government should apologise to the Community for its part in the 2005 massacre in which 8 people ( including 4 children ) were killed, it is believed as the result of a joint army-paramilitary operation.
We at the North Herts Group of Amnesty International have promised to do all we can to support the Peace Community and in particular making appeals on their behalf to the responsible authorities to take measures to protect these people and calling attention to their plight.
The Peace Community of San Jose, on whose behalf the North Herts Group has agreed to work, continues to be menaced.
If you wish to join us in this work please contact us.
(Mike)
View latest posts