Signing letters and cards in Minehead for Write for Rights 2016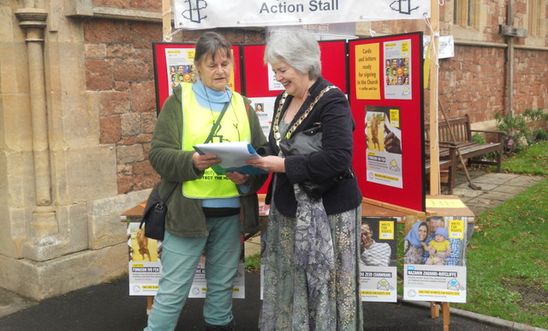 The Mayor of Minehead, Councillor Parbrook, signs a petition about refugees © C Lawson
Our local group arranged two opportunities in Minehead for people to write letters and sign cards for this year's Write for Rights Campaign. The most recent of these was on Friday 9 December (to mark Human Rights Day on 10 December) and was attended by the Mayor of Minehead, Councillor Parbrook. We were pleased to collect approximately 60 signatures on greetings cards and letters to the authorities for eight of the cases in this year's Campaign. As well as signing cards, visitors could also enjoy coffee and chat to their friends in the welcoming Avenue Methodist Church in the centre of the town.
We also held a letter writing afternoon on 9 November in the annex of St Andrew's Church in Minehead. We were very pleased to welcome 15 people - some members of Amnesty and some not - and we wrote 65 letters concerning the cases in this year's Campaign.
The Write for Rights Campaign 2016 was launched at the Human Rights Action Centre in London on 1 November. One of our members, Susan Mew, was lucky enough to be able to attend the launch. She says it was inspiring to hear from people who had featured in previous Write for Rights campaigns - Albert Woodfox and Robert King, each released after spending many years in solitary confinement in a US prison (Albert - 43 years, Robert - 29 years), and also from Shaker Aamer, released in October 2015 after 13 years in Guantanamo Bay. Another speaker was Richard Ratcliffe, the husband of Nazanin Zaghari-Ratcliffe, the British/Iranian charity worker who has been imprisoned in Iran and sentenced to five years in prison on unspecified 'national security-related charges'. Amnesty does not believe Nazanin received a fair trial and she is featured as one of the cases in this year's campaign.
View latest posts