Minehead Group celebrates with birthday cake!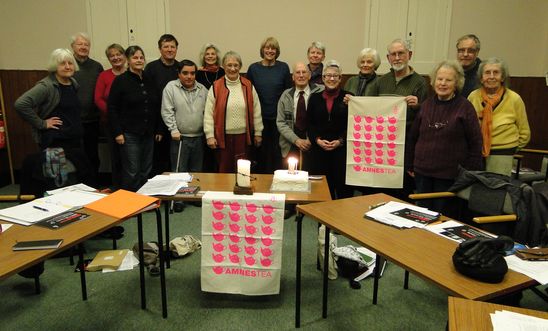 Minehead Group at their AGM with the 10th birthday cake
At their AGM in February 2013, the Minehead Group carried on their celebrations of their 10th birthday. Alison Dietz, the group's chair, had baked a delicious cake and iced it with the Amnesty Logo. One of our original members, Michael Sully, who retired after 10 years as the group treasurer, cut the cake. Another original member, Kathleen Winkley, blew out the candles.
At the AGM we heard reports of the group's activities during the year and each campaign coordinator gave a short report of campaign actions. It was good to review the year and remind ourselves of all the work we had undertaken during the previous 12 months. Eating cake with our cups of tea and coffee was a good way to celebrate our achievements as well as the 10th anniversary of the founding of the group in December 2002.
View latest posts