The Minehead AI Group is 10 years old!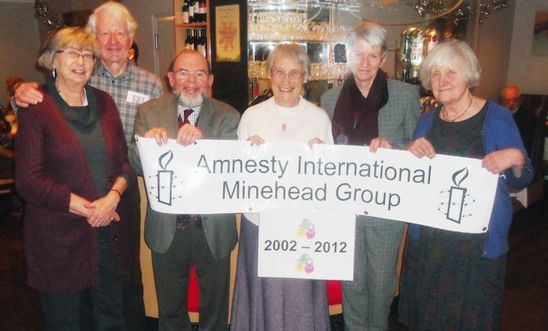 Some of our original Minehead group members pictured at the 10th birthday celebration
On 3 December 2002, the launch meeting for the new Minehead Amnesty International local group was held. Of the 27 people who either came to the launch or had asked to be kept in touch, 15 are still members of the group. After ten years of successful campaigning, local awareness-raising, fund-raising and social events, the group is still going strong! 
To celebrate our 10th birthday, we held a special evening at The Spice Merchant Indian Restaurant in Watchet on Monday 3 December. A large group of local Amnesty members and friends attended, and it was a very happy occasion. The food was good too! This was one of the charity evenings at which The Spice Merchant donate their profits to a good cause - this time for Amnesty. The meal raised £290 for Amnesty and an additional £58 was raised from a raffle. Later in December, two members of the group went back to the restaurant for a photo shoot with the restaurant manager, Uddin Asfar, presenting a large cheque. The photo and press release was printed in the two local newspapers. 
View latest posts