Join us on Holocaust Memorial Day on 27 January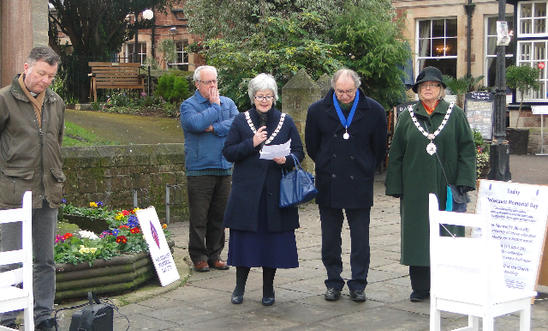 Ceremony in Minehead for Holocaust Memorial Day 2017
On Saturday 27 January, members of the Minehead Amnesty International Group will be joining with others  to remember those who have suffered and died in genocides - such as by the Nazis against Jews and other groups; and in genocides in Cambodia, Rwanda, Bosnia, Darfur, and Myanmar. We will be marking Holocaust Memorial Day by stating that we oppose prejudice and racism today. All are welcome to join us.
12.00-12.30: there will be a Vigil in Wellington Square. We will be remembering all who have died and suffered in genocides, and standing together for a safer better future.
12.30-1.30:  "The power of words" - exhibition for reflection in St. Andrew's Church, with the opportunity to write your own thoughts. Tea and coffee available.
1.30-2.00: Words and music for remembrance and commitment in St. Andrew's Church.
There will also be a special Book Exhibition to draw attention to Holocaust Memorial Day. The exhibition will be in Minehead Library from 20 January to 2 February.
View latest posts