Next Meeting Wednesday, September 2, 2015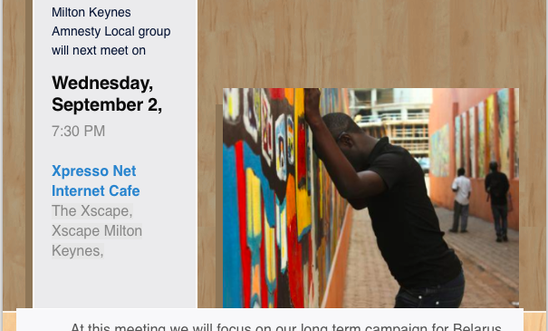 Are you moved by the suffering inflicted on people around the world by power-hungry dictators and fanatical extremists?  The Milton Keynes branch of Amnesty International are a strong and dynamic group of local people who feel that way too, and want to do something about it.
We hold monthly meetings on the first Wednesday of the month and we have regular guest speakers who have presented discussions on the occupied Palestinian territories, Burma/Myanmar and the Human Rights Act. 
As a group we campaign against the infringement of human rights such as the use of torture, wrongful imprisonment and inequality of sexual and gender rights. 
Among our activities are writing letters to powerful people around the world and creating a presence in the local community.
Letter Writing and Chat
Wednesday, September 2, 2015
7:30 PM - 8:30 PM
13, The Xscape, Xscape Milton Keynes, 602 Marlborough Gate, Milton Keynes MK9 3XS
At this meeting we will focus on our long term campaign for Belarus LGBTI rights activist Ihar Tsikhanyuk. We will also take action for Elena Klimova and her gay youth support organisation Children 404, which is threatened with closure in Russia
Please check out our meet up group to RVSP http://goo.gl/x0oIkh
View latest posts