Milton Keynes Group members collect petition signatures in protest at oil company's corporate irresponsibility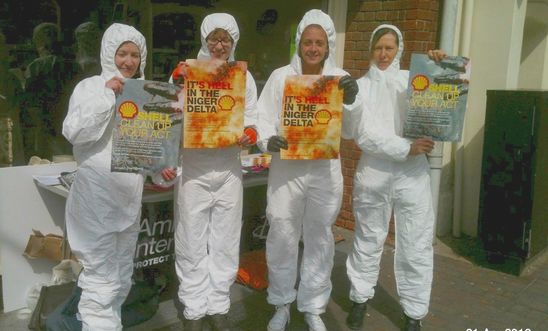 Members don anti-contamination suits to press home the point
Last Saturday 21st April saw members of our Milton Keynes Amnesty International group collecting signatures in a wet and blustery Newport Pagnell for a petition that Amnesty International UK will deliver to the Chief Executive of the oil company, Shell, who are responsible for a massive oil spill in the Niger Delta ruining the lives of many thousands of people whose lives depend on the land and waters of their homeland.  They can no longer make their livelihood's from the natural resources that are their birthright.  The people of the Niger delta are now destitute, hungry and have to drink contaminated water; ill-health and disease are the inevitable result.    
Shell's response is to avoid their responsibilities for this humanitarian and ecological disaster of their own making, and to provide paltry compensation, make minimal efforts to clean up the mess they have made, and to accuse the people of the region of sabotage causing the oil leak that led to the contamination of thousands of square miles of land and delta wetlands.
Finally the people of the Niger Delta are standing up for their rights and are pursuing Shell in UK courts for proper compensation that would make a miniscule hole in Shell's profits and shareholder dividends.
Later in the day members of the group donned pristine white anti-contamination suits in symbolic protest at Shell not facing up to their corporate responsibilities to clean up the oily black mess they have made and the lives they are ruining.
The petition will be presented to the Shell CEO this week.
Want to do something?  Add your name.  Send an e-mail to Shell.  You can make a difference.
View latest posts