Bhopal communities with Marcus Armstrong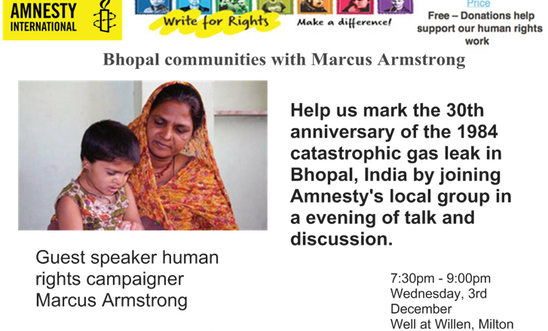 Bhopal communites Amnesty International UK
Join Amnesty International Milton Keynes in a talk and discussion regarding the 1984 catastophic gas leak in India with human rights campaigner Marcus Armstrong.
7.30pm - 9.00pm
Wednesday, 3rd of December
Well at Willen, Milton Keynes
 
Be part of something and join the Milton Keynes Amnesty group in understanding more about this cause and others from Amnesty's Write for Rights campaign.  
Objective: 
To ask India's Prime Minister to order a full clean-up of the Bhopal factory site and compensation for the people affected by the Bhopal disaster. 
Find out how your support may help to save a community from injustice. 
Free – Donations help support our human rights work  
This year will mark the 30th anniversary of the 1984 catastrophic gas leak in Bhopal, India – but still no one has been held to account. 
It is estimated that between 7,000-10,000 people died within three days of the leak, and more than 570,000 people were exposed to damaging levels of toxic gas. 
The disaster continues: the surrounding communities scrape a living each day, battling ill health and ongoing pollution; tens of thousands of people still suffer from serious health problems including children born to gas-affected parents.
 
View latest posts