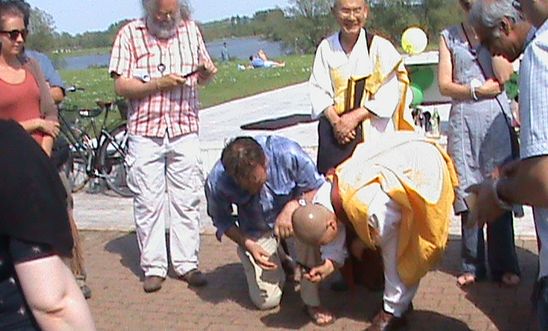 Are you moved by the suffering inflicted on people around the world by power-hungry dictators and fanatical extremists?  The Milton Keynes branch of Amnesty International are a strong and dynamic group of local people who feel that way too, and want to do something about it.
We hold monthly meetings on the first Wednesday of the month and we have regular guest speakers who have presented discussions on the occupied Palestinian territories, Burma/Myanmar and the Human Rights Act.  As a group we campaign against the infringement of human rights such as the use of torture, wrongful imprisonment and inequality of sexual and gender rights.  Among our activities are writing letters to powerful people around the world and creating a presence in the local community.
We recently attended a candlelit vigil to draw attention to the suffering in Syria, using candles as a source of light. This was to illustrate Syria's loss of their own light over the last 4 years of conflict.  At the time of writing this, Amnesty International report Syria is in near darkness with 83 percent of the country without lighting.  This is one of the problems facing the Syrian people since 2010 when a peaceful protest was brutally countered by government forces leading to the present chaotic conditions, with more than 200,000 dead and 10 million displaced, 4 million of whom have been forced out into other territories.
Locally, we campaign on a variety of issues but our main campaign for the year is My Body My Rights.  Our campaign began by with a sponsored 10 mile walk around Milton Keynes which was a great success.  We will be holding more events throughout the year so please watch this space.
At a global level, Amnesty International is supported by over 3 million members in 150 countries.  With this support behind us and the hard work of our local members, we have engaged other local groups and the community.  We appreciate any help and hope you can make it to our next meeting.