Peace Festival Leamington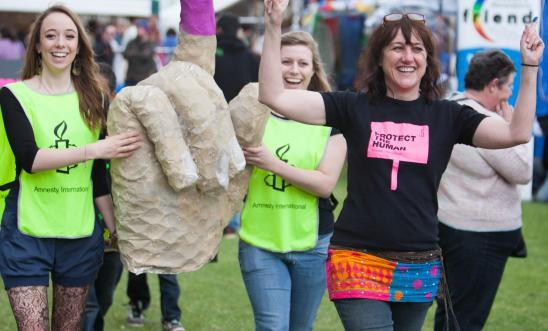 Well - it's that time of year again!  As you are no doubt aware, the Leamington Peace Festival weekend is fast approaching - 14/15th June.
We hope to have plenty of things on the go over the weekend.  Our main campaigns will be Stop Torture (a global AI campaign just launched this month – today, in fact!) and Protecting Women Human Rights Defenders (building on the work we did at last year's festival). We will be making cards and banners, delivering a peace talk on each day, having a procession around the grounds on Sunday afternoon and, for the first time, holding a workshop on Saturday (5 pm) in the form of a reading of the Ice & Fire  script, 'Even if we Lose our Lives'. We will also be sending letters and cards to our Chinese Prisoners of Conscience and doing something for Syria.
Please come and visit us on the stand or even better we need help in running the stand. If you could offer acouple hours over weekend, we would really appreciate your help. Please contact Jo (jo@okentearooms.co.uk)
View latest posts