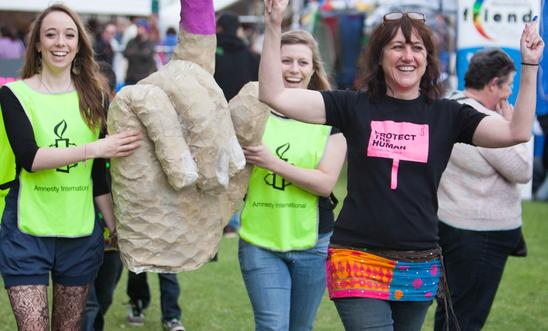 Another Peace Festival has come and gone. And although the weekend seemed to go quickly it can only be down to its great success.
To sum up everything that happened over the weekend I think it's best to leave to Jo – who as always did such a fantastic job in the organisation:
'As usual, we did a lot of great campaigning! Nearly two hundred people signed our petitions on the right to work and to volunteer for asylum seekers – and even more visitors voted to show their support for women's rights in Afghanistan. There was a lot of interest in our Fibs and Facts door – we even had a group of refugees and asylum seekers taking notes at one point! Many people also came inside the marquee just to read the information on all the display boards. We had a steady stream of youngsters (and some not so young!) making cards and roses for WOZA, which made the marquee look even more decorative. Our gun – adorned with balloons and streamers in celebration of the signing of a global Arms Trade Treaty this year – attracted a lot of comment; especially as this is a campaign Peace Festival goers have taken part in again and again over the years.
Our stand was visited by Chris White MP, who willingly showed his support for women's rights in Afghanistan by 'purpling' his own finger, and was happy to be interviewed on camera talking about why this issue is important. He spent about half an hour with us in total and was very supportive on Amnesty International in general.
We also delivered two peace talks over the weekend, one at the bandstand and the other at the main marquee.  The Saturday talk was delivered by a group of Mid-Warks Amnesty members, talking about Hakamada Iwao and the length of time he has spent on death row in Japan.  The Sunday talk, delivered by Will, was on women's rights in Afghanistan and was preceded by a spectacular parade through the festival ground. Over 30 of us – carrying Amnesty banners or giant hand placards (including one huge 3D structure made by an art teacher at Kineton School) – wended our way through the crowd, attracting onlookers from all around. It was fabulous!
All of this was filmed by a crew sent up from the Human Rights Action Centre (AIUK Headquarters). They had heard about the Mid-Warks Amnesty group at the Peace Festival and spent the whole weekend capturing it all on film. They wanted to see how local activists operate, and to find out a bit about what we do and why we do it. Much of the footage will be used to make a film about the Women in Afghanistan campaign and shown at a parliamentary event later on in the year.
We couldn't have done any of this without the most enthusiastic, knowledgeable, caring, funny group of volunteers I've ever had the pleasure to work with! We had some great Year 10 girls from Kingsley School who managed to tattoo a vast amount of their friends with the AI logo; we had some wonderful sixth formers from Kineton School who spent a couple of hours on our shopping trolley activity and engaged a lot of people through this; we had a couple of lovely Warwick Uni students who stalwartly carried the giant 3D hand without dropping it for half an hour….! One of our number – Molly – having tried to get to the festival first by bus, then by train, ended up calling a taxi so determined was she to do her stint! But every single one of you gave up your time and energy to work with us on issues we all believe in so passionately. It was heart-warming that there were always so many of us there at any one time, ready and prepared (in our attractive high-vis Amnesty tabards) to take on any challenge. In terms of raising public awareness, the presence of so many lovely, friendly Amnesty supporters said a lot about the kind of organisation Amnesty International is'
I would like to say a massive thank you to Jo and everyone who volunteered and helped organise the stand this year.
The coverage in the Observer shows exactly why events like this are so worthwhile, as they bring Amnesty's work to a wider audience. It was very gratifying to see Chris White address the issue of Women's rights on Afghanistan in his regular column. As well as a wonderful photo in the main peace festival coverage.
Will.
View latest posts