Leamington Peace Festival 16th / 17th June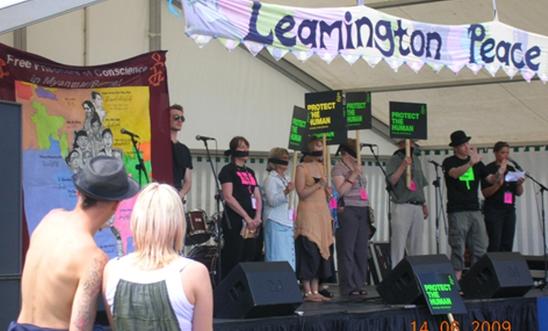 Peace Festival 2009
Hello everyone!
Well - it's that time of year again! As you are no doubt aware, the Leamington Peace Festival weekend is fast approaching - 16/17th June.
We hope to have plenty of things on the go over the weekend. Our group 'banner' action will be making tissue-paper flowers to stick onto a large cut-out of a Kalashnikov machine-gun to show support for an International Arms Trade Treaty; this 'petition' will be presented to Chris White MP at a meeting after the festival. Visitors will also be able to make a greetings card to send to Patrick Okoroafor, a Nigerian prisoner who spent many years on death row but has now been freed after intense campaigning by AI over the last 5 years. In addition, there will be actions/petitions on Shell, Bahrain, the Death Penalty and Burma. So you see there will be lots to get involved in!
We will also be joined on Saturday by Maria Gillespie a former 'Prisoner of Conscience' and member of the Mid Warwickshire Amnesty Group. She will be giving a 5 minute talk on the bandstand at 14.20.
Please come along and visit us and support the work of Amnesty International. If you would like to volunteer and help on the stand we would love to here from you. Please contact Jo Hobbs jo@okentearooms.co.uk
We look forward to seeing you there. (Stall 32)
View latest posts