CURRENT CAMPAIGN: Human rights in the Philippines- Leila de Lima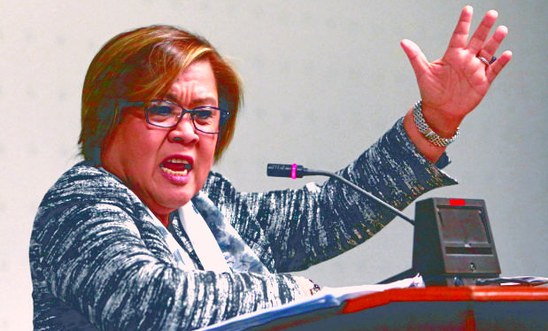 Leila de Lima © AIUK
Since early 2019 the Amnesty Mid Warwickshire group has been sending Senator Leila de Lima solidarity messages. The group has also been campaigning for her release by writing to the Philippines Secretary of Justice, President of the Senate, Secretary of the Interior and Local Government, and to the Ambassador to the Philippines in London. 
To this day she remains imprisoned. Each letter makes it more difficult for governments and authorities to ignore our appeal. 
If you would like to support her alongside us please contact the Mid Warwickshire group Chair, Jane Sault j.sault1@ntlworld.com. 
Here is Leila de Lima's story: 
Written by Huw Jones, Country Co-ordinator -The Philippines
"Our mission will never, in truth, be completed because the moment we stop fighting is the moment that tyrants regain their foothold.  The moment we let our fire die out is the moment we let darkness reign again."  (Leila de Lima)
Prominent Human Rights Defender Leila de Lima, a Philippines Senator, remains languishing in the Philippine National Police Custodial Center in Quezon City, 18 months after her arrest on trumped-up drugs charges, and six months after Amnesty called for her unconditional release.
Senator de Lima has long been a vocal critic of Philippines' strong-man Rodrigo Duterte, both since he was swept to power as President in 2016, and before that, as the controversial Mayor of Davao.  Duterte's self-styled "war on drugs" has seen an unprecedented rise in extra-judicial killings – estimated at over 12,000 over his 2-year presidency – together with an ever-increasing targeting of journalists and human rights defenders, and the undermining of judicial independence.
Under  previous Presidencies, prominent lawyer de Lima was appointed firstly as Chair of the Philippine Commission on Human Rights, and subsequently as Secretary of the Department of Justice, where she investigated the activities of well-connected drug pushers.  As a Senator, she campaigned against Duterte's violent war on drugs, and in February 2017 was arrested for supposedly violating the drug trafficking law, citing testimonies from those same drug-pushers she had jailed.
She remains in custody, officially Duterte's first political prisoner, and an Amnesty Prisoner of Conscience.  Earlier this year Amnesty Philippines gave her the "Most Distinguished Human Rights Defender" award.
I visited The Philippines last Christmas and was surprised to learn that Duterte remains popular, especially with ordinary working people, at least on the surface. A prominent activist I met suggested this "popularity" owes much to the underlying climate of fear.  Who will the vigilantes and gun-toting police come after next in their zeal to combat the drugs scourge?
But de Lima remains in gaol, forced to exchange her high-profile and workaholic life for an unchanging routine of confinement in her small cell, where piles of documents and books cramp her free space.  She remains an elected Senator, receiving regular visits from her family, staff and supporters.  On the surface, she remains her usual up-beat self, enjoying Sunday Mass and lunch with her visitors – and the stray cat she was given by one of the guards.
She has no choice but to learn to live with her current fate.  She has only hope to cling to.  "It's just hope.  Realistically it seems quite remote.  Nothing less than a miracle would free me"
We at Amnesty have helped make miracles happen before.  It is high-time we do it again, for this remarkable lady.
Sources:
AIUK Press Release, February 2018
GMA News Online, July 2018
Rappler.com article, February 2018
Wikipedia
View latest posts