An Afternoon With The Director Of Amnesty International UK, Kate Allen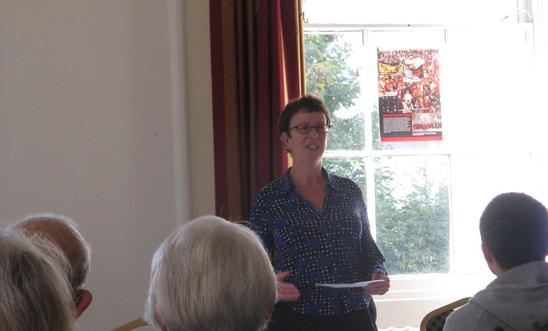 An afternoon with the Director of Amnesty International UK, Kate Allen.
Mid-Warwickshire Amnesty International Group hosted this event
on Saturday 13 October at Victoria House, Leamington Spa.  Will Roberts from Warwick, the regional coordinator for Amnesty International, introduced Kate Allen to a  large audience  composed of local Amnesty members including very many young supporters from Kings High School, Warwick and from the University of Warwick. Kate Allen admired the displays of local Amnesty campaigns and actions and was full of praise for the enormous support given to Amnesty by people of all ages in Warwickshire. She highlighted in particular the campaigning for an United Nations Arms Trade Treaty, our impressive vigil on the Leamington Parade to celebrate the 50th Anniversary of Amnesty International and the thousands of letters and cards written to support and to demand the release of Prisoners of Conscience. Who are these Prisoners of Conscience? Men, women and children imprisoned, badly treated and often tortured simply for being brave enough to question authority in countries such as Burma, China, Russia, Syria and Zimbabwe. She emphasised that this constant campaigning is often successful in securing their freedom or at least in securing better prison conditions.
The main feature of the afternoon was a lively debate on the contentious issue of Asylum Seekers and Refugees in the UK.  An impressive panel consisted of Kate Allen, Bhopinder Basi, CEO of the Coventry Refugee & Migrant Centre, Sobia Khan, a clinical psychologist, working at Freedom from Torture providing psychosocial rehabilitation to survivors of torture and organised violence and Perico Rodriguez, former Argentinian Prisoner of Conscience imprisoned and tortured by the Argentinian Junta in the late 1970s.
Shockingly, the shameful picture that emerged from this informed discussion was one of a general public rejection of, and often hostility towards, Asylum Seekers arriving in the UK.
Why has Asylum Seeker become a term to sneer at?
We are not referring to economic migrants seeking a more prosperous life, but rather seekers of 'Asylum' in the correct sense of that word: - desperate men, women and children arrive here having fled persecution, imprisonment and often torture – severe and repeated pain deliberately inflicted by a person who has total power over them! And arriving in the UK – in their minds 'the land of the free' – they are greeted with official suspicion; they must somehow, and in a foreign language,  'prove' the abuses they have suffered. They are not allowed to work, are denied welfare and regarded as scroungers. They are certainly not made welcome by a public assailed by lurid stories in the tabloid press. Little wonder that some feel they have simply exchanged one type of abuse for another!
Yes not all those claiming asylum are the genuine article and obviously checks need to be made. But are we as a society so indifferent to the suffering of people fleeing persecution? Or is it simply that we don't truly understand what genuine asylum seekers have been through? I would sincerely like to believe it is the latter.
Malcolm Hancock, Chairman of the Mid-Warwickshire Amnesty Group.
View latest posts