17-26 August: Art for Amnesty 2013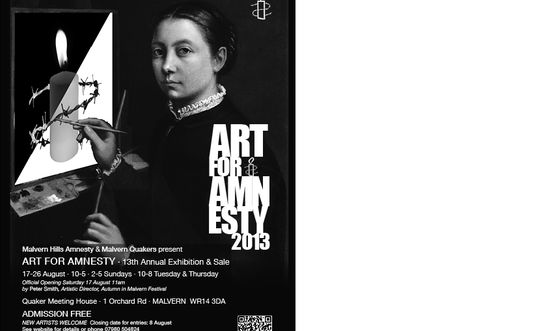 Malvern Hills Amnesty International and Malvern Quakers held ART FOR AMNESTY 2013, the 13th Annual Exhibition and Sale in support of Amnesty International at the Quaker Meeting House, 1 Orchard Road, Malvern  WR14 3DA, from Saturday 17 to Monday 26 August 2013. The Official Opening by Peter Smith, Artistic Director, Autumn in Malvern Festival, was on Saturday 17 August.
We showed and sold the work of professional and amateur artists: paintings, drawings, prints, photographs, sculpture, ceramics, glass, textiles and jewellery; also artists' greetings cards, and a selection of art-related second hand books, most of them kindly supplied by Books for Amnesty, 3 Edith Walk, Malvern. 70% of the proceeds go to the artists, 30% to Amnesty International. The total raised was some £2,080.
 
Downloads
View latest posts