Stop Torture! Embassy Crawl - Saturday 25th October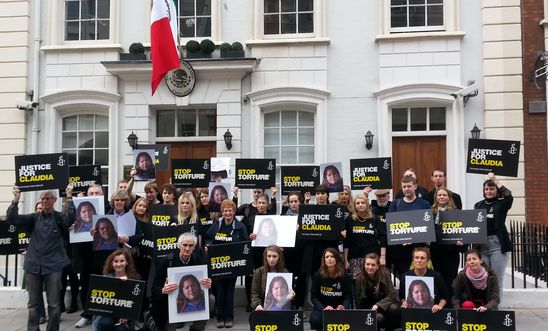 Thanks to Jon and the rest of the Wandsworth group for organising such a successful embassy crawl on Saturday. Around 40 people were there (including several Lambeth members) and we visited seven embassies to hand in letters calling for those countries to stop torture.
................................................................................................
We will be joining our friends at the Wandsworth group on their annual Embassy Crawl on Saturday 25th October.
Torture is not just alive and well – it is flourishing in many parts of the world as governments ignore the law and their own commitments.
Join the annual Embassy Crawl and help us to stop this barbaric practice for once and for all!
Saturday 25 October @ 10:45 Start: Embankment station
(we'll meet outside the riverside entrance of Embankment Station and set off at 11am)
At each embassy we will deliver a letter and have a brief talk on the torture practice of that country.
We will stop for lunch in Hyde Park, at the Lido Café Bar. If possible please wear black. Remember to check the weather and come prepared if it looks like rain! The end point is very near to Gloucester Road tube.
Organised by AI Wandsworth www.amnesty.org.uk/wandsworth
If you need to find us on the day of the Embassy Crawl, please call Jon on 07810 811 675. For all other enquiries before or after the event please contact: wandsworthai@yahoo.co.uk.
Downloads
View latest posts