Embassy Crawl - Saturday 23rd September 2017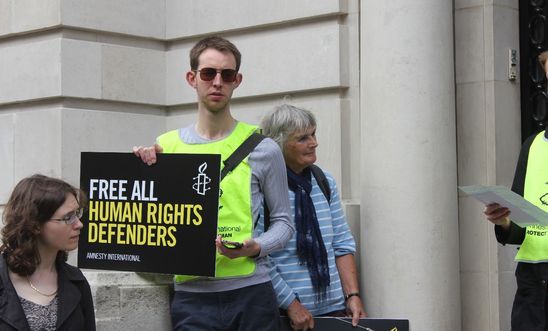 Lambeth Embassy Crawl - 2017
On Saturday 23rd September, the Lambeth Amnesty group held an Embassy Crawl in London visiting 7 embassies on foot and stopping at each one for a short action.
There has been a world-wide marked increase in the killings of human rights activists and an increase in legislation specifically aimed to harass activists. In light of this Amnesty is stepping up its work with and for human rights and have launched a new campaign called BRAVE. We chose to focus the Embassy Crawl this year on this campaign.
Our aim was to draw attention to specific cases and put pressure on the embassies to act. In previous years the Embassy Crawl was organised by the Wandsworth group and has focused on campaigns such as 'My Body My Rights' and 'Stop Torture'.
This year we visited the embassies of Chile, Sudan, Saudi Arabia, Egypt, Iran, Bahrain and Finland. We also signed a letter for Cambodia which is part of the BRAVE campaign. At each embassy we heard a statement about the case and delivered a letter to the embassy (which had also been sent in advance). Please see below for the cases.
Hopefully the Embassy Crawl has drawn attention to the killings and persecution of human rights defenders and let these countries know that we are paying attention.
Thank you to the 40 or so people that that attended and to the Country Coordinators who travelled from across the county to be with us (and to those that couldn't be with us). We are also grateful for the support we received from AIUK's staff and volunteers. If you have any questions please contact lambethamnesty@gmail.com
............................................................................................................
Earlier this year Amnesty International launched a new global campaign, BRAVE, to strengthen the recognition and protection of human rights defenders around the world. The campaign is in response to the increased attacks and targeting of Human Rights Defenders, Activists and civil society organisations around the world.
Please join us on Saturday 23rd September for the Lambeth group's Embassy Crawl which is dedicated this year to the BRAVE campaign.
What is an Embassy Crawl?
We take a current Amnesty campaign and (on foot) visit select embassies one-by-one, delivering a letter about a case at each embassy. At some of the embassies we will be joined by the relevant country coordinator who will talk about the case. Previously the Embassy Crawl has been organised by the Wandsworth group and you can see photos of previous crawls here.
We meet at 11am at Storey's Gate (SW1P 3AT) near the Chilean embassy and behind the Queen Elizabeth conference centre. The nearest tube station is Westminster or St James's Park. Please see the attached flyer for a map. We stop for lunch in Hyde Park (bring a pack lunch or there is a café). Please wear black if possible and come prepared for the weather. The Embassy Crawl will finish at approximately 3pm.
If you are on Facebook please could you register your interest in coming here. If not just email lambethamnesty@gmail.com so we have an idea of numbers.
These are the embassies that we will be calling at and the cases:
1.       Chile - Rodrigo Mundaca
2.       Sudan - Dr Mudawi Ibrahim Adam (now released)
3.       Saudi Arabia - Waleed abu al-Khair
4.       Egypt - Azza Soliman and Giulio Regeni
5.       Cambodia (their embassy is a bit out of town, so we shall probably have some sort of photo action and/or letter signing during our lunch break in Hyde Park) - Tep Vanny
6.       Iran - Nazanin Zaghari-Ratcliffe, Kamal Foroughi and Mohammad Ali Taheri
7.       Bahrain - Nabeel Rajab
8.       Finland - Sakris Kupila
If you have any questions please email lambethamnesty@gmail.com
View latest posts