Joint Open Meeting // Tues 23rd February 2016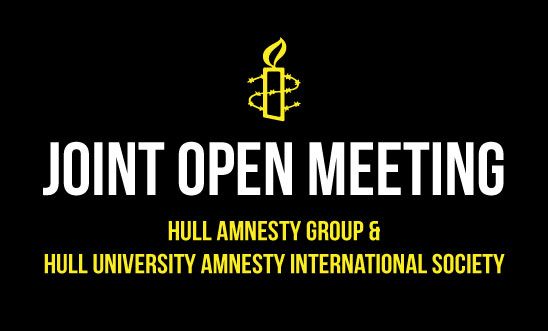 Hull Amnesty Group & Hull University Amnesty International Society present the inaugural joint open meeting of our two AIUK groups - everyone welcome.
Dr Shahrzad Fouladvand - Lecturer in Human Rights Law, Hull University Law School and Wilberforce Institute for the Study of Slavery and Emancipation (WISE) will open and lead a discussion on 'The International Criminal Court and Human Rights'.
Shahrzad's empirical doctoral research examined the practical and moral legitimacy of the complementarity regime of the ICC and emphasised that moral obligations do not end at national borders. She worked as a legal researcher at the Office of the Prosecutor at the International Criminal Court (ICC)/Prosecution Division during her field research.
Some of her recent works on the ICC matters include:
- 'Complementarity and cultural sensitivity: decision-making by the International Criminal Court (ICC) Prosecutor in the Darfur situation'
- The rights of the accused and the International Criminal Court (ICC)' (Second International Conference on Human Rights and Cultures: Human Rights and Cultural Diversity'
Tuesday 23rd February @ 6:30PM
Lecture Theatre 28, Wilberforce Building, Hull University
Downloads
View latest posts