Taking our message to the Ethiopian Embassy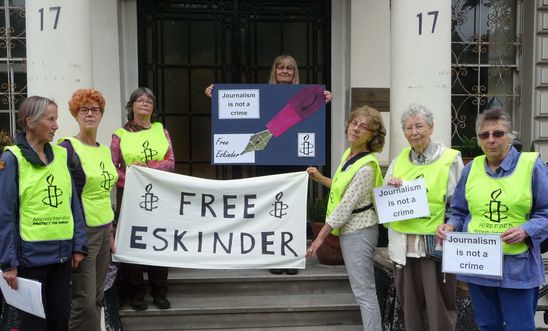 Free Eskinder
We travelled to London today to ask the Ethiopian Ambassador to answer our questions about the imprisonment of Eskinder Nega, journalist and Amnesty International Prisoner of Conscience.  Three years ago today he was imprisoned because he criticised the government and called for freedom of expression in speeches and articles.
We delivered our letter, messages from our group and photos of the World Press Day action with the staff of the West Sussex County Times.  We didn't get to speak to the Ambassador himself so we made sure that we were noticed as we stood at the Embassy door with our banners.
We have been promised a reply from the Ambassador but made it clear that we would be back with more petitions, photos and banners if we hear nothing.
It was great to have the company of two Hereford Amnesty Group members.
View latest posts