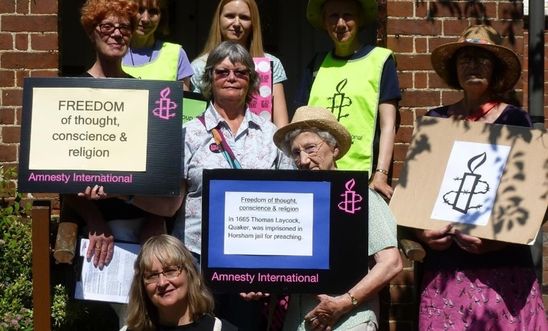 Walking for Human Rights
We have had an amazingly busy year! We moved into a larger meeting room as our numbers grew which meant we were able to be more actively involved in campaigning and raising awareness of Amnesty's work in our community.
We invited barrister, Martha Walsh, to tell us why we should keep the Human Rights Act and we took a "Walk for Human Rights" through the town highlighting all the places which related to the act. Our campaigning for the release of our Prisoner of Conscience, Eskinder Nega, took us to the Ethiopian Embassy to deliver hundreds of postcards in his support.  The group was represented at the SE Regional Conference, the national AGM and on the Refugees Welcome march.
There was an exhibition in the library during Refugee Week and we took part in the Against Hate campaign. During Write for Rights we went into the town centre where we collected hundreds of signatures for Egyptian photojournalist, Shawkan.  At the Fairtrade Fair we also signed cards for Maxima Acuna from Peru.
Fundraising was very successful. Proceeds from our AmnesTeas raised £750 for the Burkina Faso appeal.  There was the annual street collection, stalls at fairs and our first quiz night.
That was 2016 - we worked hard and we had fun, too.  Now we're ready to continue standing up for human rights during 2017.
View latest posts