A Human Rights walk round Horsham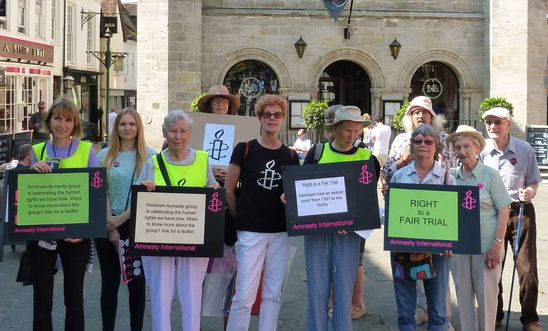 A town tour with a difference!  We visited ten locations in Horsham each highlighting one of the human rights that we often take so easily for granted. 
We stopped at each to describe the event that had taken place and relate it to one of the articles of the human rights act..  Outside the County Times newspaper office we talked about the imprisonment of an Ethiopian journalist, Eskinder Nega and celebrated the freedom of expression we have in this town and country.  At the spot where once hangings took place in Horsham we spoke of the right to life.  In front of the Friends Meeting House we considered the persecution of Quakers in Horsham and the importance of the right to choose a religion.
During the walk we were able to talk  to members of the public out shopping who were interested in what we were doing.  It was a very positive action which was also well covered in the local newspaper.
View latest posts