Sept 11 Anniversary: Hearing the Voices of Women in Afghanistan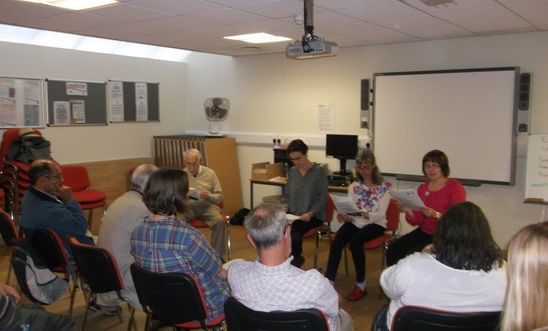 Amnesty Hillingdon hosted a scripted reading event on the true life testimonies of real Afghan women defending human rights in their everyday lives. Our event took place on 11 Sep 2014, to mark the 13th anniversary of the September 11 attacks, which subsquently led to the invasion of Afghanistan.
The event highlighted the challenges faced by women in Afghanistan compared to the freedoms women and men can enjoy here in the UK. 
Carolyn, Janet and Sally read the parts of the women, while Alfred was the narrator. After the reading, Chris Usher, the AIUK Country Coordinator for Afghanistan, led a discussion on the latest events in Afghanistan.
The full script can be accessed here:
https://www.amnesty.org.uk/resources/script-even-if-we-lose-our-lives
Read more about Amnesty International's Women in Afghanistan campaign:
https://www.amnesty.org.uk/issues/Women's-rights-in-Afghanistan
View latest posts