Gaza: Stop the arms, stop the killing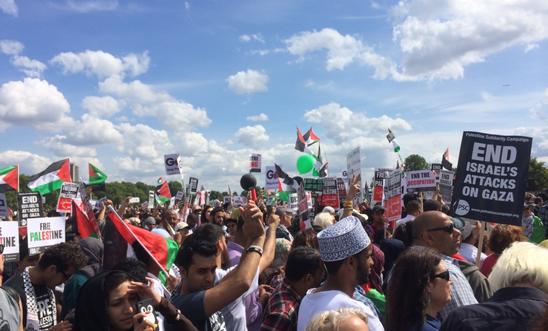 Amnesty International recently launched an urgent action calling on the UK government to suspend all arms transfers to Israel.
Since the Israeli military offensive 'Operation Protective Edge' launched on 8 July, scores of civilians have been killed and injured. This deadly battle has wreaked further havoc, punishment and devastation on Gaza's blockaded population, with Gaza's children caught in the crossfire.
On Saturday 9 August, tens of thousands of people marched from the BBC's London headquarters near Oxford Circus via the US Embassy to a rally in Hyde Park calling for an end to the massacre and arms trade. Organisers estimated the attendance to be 150,000, and the Met Police reported that the protest was entirely peaceful.
Liberal Democrat MP David Ward and Labour politician Jeremy Corbyn both spoke at the rally, while other speakers praised Baroness Warsi's recent decision to resign from the government citing a "lack of support for international justice and accountability" in the conflict.
Indiscriminate targeting of civilians and medical facilities is against international law. And if countries, including the UK, continue to supply weapons to Israel they will be potentially facilitating war crimes.
The past weeks of violence have seen at least 1,922 Palestinian killed (448 of them children) and more than 9,000 injured. Hamas has also launched hundreds of indiscriminate rockets into Israel in violation of international law, with three civilian deaths.
Amnesty International wants the UK government to call on other states to stop their arms transfers to Israel, Hamas and any other armed group until there is no longer a substantial risk that such items will be used for serious violations of international humanitarian law or serious human rights abuses. It also seeks an end to indiscriminate attacks on civilians.
If you want to support the action, please visit: https://www.amnesty.org.uk/actions/gaza-israel-stop-arms
View latest posts