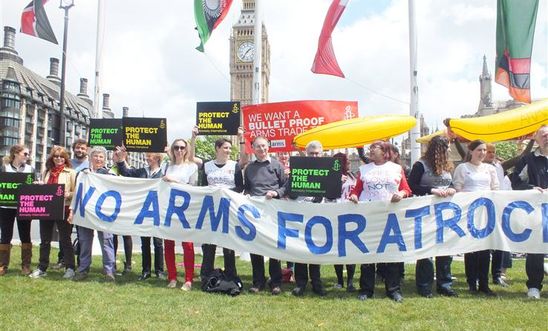 Raising awareness and support for a robust arms trade treaty at Parliament Square
Members of Hillingdon branch met with other Amnesty members in Parliament Square on Saturday 16 June to raise awareness and gain support from the public for the Arms Trade Treaty (ATT).
With world leaders meeting in July to draw up the first ever international arms treaty, the public were asked to sign a petition asking the Prime Minister to give his full and unequivocal support to the Treaty.
The arms trade needs to be regulated to keep arms out of the wrong hands.
Playing on the absurd reality of having an international binding treaty that regulates the trade of bananas but not one for arms. Groups enacted a symbolic act of street theatre, turning lots of heads.
Local  Amnesty group members together with local MP John McDonnell eventually delivered the vest to David Cameron at 10 Downing Street.
View latest posts