Refugees and Asylum Seekers: Acting Together in High Wycombe Bucks New University, Weds 1 Mar 2017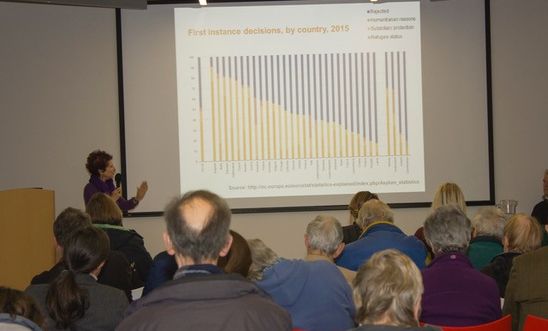 Eleonore Koffman addresses the audience
This was a lively event, with the Students' Union at the University arranging a screening of Exodus: Our Journey to Europe, a reading from Abi Morgan's play Fugee and a raffle with prizes provided by local businesses including: Rebellion Brewery; Nando's; The Works (restaurant); Hollywood Bowl; Lego; Adorn Beauty and Cineworld. There was also a display of photos from the Magnum Photos agency, exhibited originally by Amnesty International at London's Southbank Centre last December.
A panel of speakers talked to the theme of acting on our concern for refugees and asylum seekers within High Wycombe, of focusing on what people can do in response to the current refugee situation. Prof Eleonore Kofman (Middlesex University) showed a timeline and reported data demonstrating the escalation in the 'crisis' for refugees, with a peak in late 2015, and noting differences in patterns of migration, with flows from the Middle East predominantly via Greece and from Africa via Italy as the main points of entry into the EU. She emphasised the need for progress on the political front, notably on the sluggish start to the David Cameron's commitment to accommodate 20,000 Syrian refugees by 2020 – a target that may well not be met – and on the government's apparent U-turn on the 'Dubs amendment' to make welcome 3,000-3,500 unaccompanied minors who were removed from the camps in Calais.
Tom Doust (High Wycombe Helping Others, and Marlow Refugee Action) introduced the work of local initiatives, and their humble beginnings in a shared concern discussed over coffee and their growth through social media. HWHO has now shipped 19 transport containers of aid – mainly clothing, hygiene, baby-care and maternity items – to camps across Europe. His own experience as a volunteer on the Greek island of Samos also illustrated both the power of local initiatives to make a difference, and the extreme precarity of refugees crowded into poor-quality camps, often with little to do.
The story of Wycombe Refugee Partnership was told by Toni Brodelle, who described how the determination of a few active citizens working together has enabled eight families from Syria to settle in High Wycombe, with more families preparing to make the journey. She explained that there were many very simple ways for people to get involved, to volunteer, from befriending to supporting the new arrivals in learning English, and noted that her experience of getting to know many of these people, of spending time with them, and of working with other local residents in this process, had been incredibly rewarding in itself.
Surat-Shaan Knan completed the talks with an introduction to his oral history project, Rainbow Pilgrims. He emphasised the value of individual stories as empowering for those seeking refuge, as a counter to the grouping together of 'refugees-and-asylum-seekers' as one group, one identity, having only one story, the one given to them as a refugee.
In the discussions that followed, we thought about how best to communicate about work with refugees to local and national media, about recognising and supporting refugees as individuals, and about how to add value to the work of local groups already working with refugees and asylum seekers. Amongst the points highlighted from this session, we recommended we should:
aim to change the public narrative about refugees, and to focus on engagement and action;
use storytelling, people's unique journeys to becoming refugees, as an invitation for more people to meet with and encounter those who have undergone this experience;
engage our diverse personal networks to involve others, whether through schools, the Women's Institute, National Childbirth Trust groups, or the Students Union;
create opportunities to share our different cultural heritages, in particular through sharing food e.g. 'Dine at Mine';
recognise and celebrate the diverse skills, experience and knowledge that refugees bring, and look to build futures rather than focus exclusively on the past – the journey from refugee to citizen, rather than from citizen to refugee.
We are all invited to consider ways in which we can support both the work with refugees, and to engage with refugees themselves. Some of the ways we can do this include:
1.      Contacting the networks directly, and joining up to the social networks through which they organise (see below).
2.      Providing support through helping with English language learning.
3.      Befriending and making refugee families welcome.
4.      Creating oral history projects – a possibility for the Students Union.
Contacts
Wycombe Refugee Partnership – https://www.facebook.com/groups/1069995593044656/?fref=nf
High Wycombe Helping Others – Highwycombehelpingothers.co.uk
Marlow Refugee Action – Marlowrefugeeaction.wordpress.com
Samos Volunteers – https://samosvolunteers.org/
Irish in Gaza – https://irishingaza.wordpress.com/
Facebook networks:
·         Wycombe Refugee Partnership - Refugees Welcome in Wycombe
-         HighWycombeHelpingOthers
·         Venligboerne/Friendly Humans Samos
·         Calais Action
·         Jungle Solidarity-High Wycombe-Aylesbury-Bucks
View latest posts