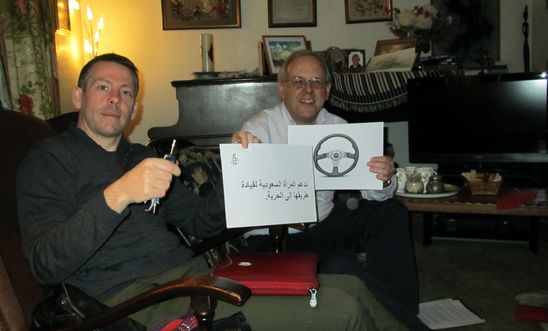 Ed and Andrew show solidarity with Saudi women
At the meeting last week we took an action for women in Saudi Arabia, caught up on the latest news from Amnesty (including a picture of Alex Collingwood, Leader of Wycombe Council, at our December event in the Groups Newsletter), and we've begun planning for the year ahead. We'll be holding a stall outside All Saints Church on Saturday 12 May, so we hope to see you then if not before.
We continue to campaign against forced evictions. For details of Amnesty's work here, see the feature in the March / April edition of the AI newsletter. 
Amnesty Scotland
 has been developing a campaign around eviction of Gypsy, Roma and Traveller communities since 2009, with a report due out this month.
You may have read about changes to Amnesty at the international level. As a global movement with an historic base in the UK, Amnesty is seeking to gain a greater presence in the global south, both through campaigns and drives for increased membership. For the next few years at least, this will mean that the UK section of Amnesty will need to contribute proportionately more funds to Amnesty work worldwide, so fundraising efforts are especially important. We'll try to play our part, and encourage you - even in these austere times - to consider if you can increase your support for Amnesty.
Our next meeting will be on Tuesday 24 April at Ed's house in the centre of High Wycombe.
View latest posts