International Day of the Disappeared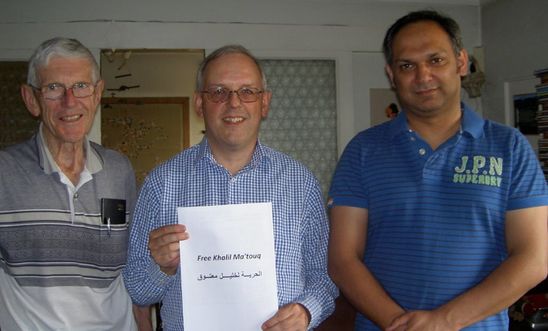 Members call for the release of Khalil Ma'touq © Photo copyright Nadia Ellis
On the 2nd October 2012, Syrian human rights lawyer Khalil Ma'touq set off on a drive to work. He never arrived and his family have not seen him since.
Khalil Ma'touq's home is in Sahnaya, a suburb roughly 20km south of the centre of Damascus. His normal route to his office in the city takes him through a number of government-controlled checkpoints. Given Khalil's work as a human rights layer, there were immdeiate concerns that he had been arrested by government forces.
Khalil Ma'touq's family and lawyer have received various unconfirmed reports that Khalil was being held at a number of different branches of the security forces. The Syriain government have not reponded to the family's requests for information on the whereabouts of Khalil Ma'touq. Following an official inquiry a grouip of lawyers the government denied that they are holding Khalil Ma'touq.
Khalil Ma'touq has been a human rights lawyer for many years. He has defended hundreds of political prisoners and prisoners of conscience, including at Syria's Supreme State Security Court. He is a prisoner of conscience, detained solely for his peaceful and important human rights work.
AIUK are producing a photo montage that they will share with Khalil Ma'touq's family. It will also be used when contacting the Syrian authorities on Khalil Ma'touq's case.
If you wish to add to the montage, please download the message take your photo and send to activism@amnesty.org.uk by 20th August.
View latest posts