Hammersmith and Fulham Group January 2012 Newsletter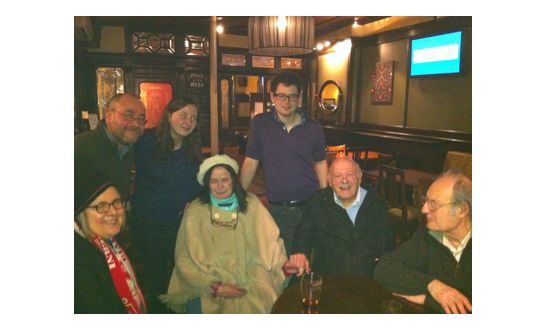 Mary with some members at the Hop Poles after the January meeting.
Regretfully, this month we have had to say goodbye to Mary Wright who has been with us, as Group Secretary, for the past 17 years. Mary has found it increasingly difficult to attend meetings due to her worsening Glaucoma and she will now be taking a well-earned rest whilst continuing to support the Group in whatever way she can. At our January meeting, Dick gave a rousing speech of heartfelt thanks and praise for Mary that was echoed by all present. As Dick said, there really are not enough words to describe her commitment, verve and inspiring contribution to Amnesty. Mary was presented with a Kindle, a gift that will prove especially helpful as there is the possibility of enlarging the text to make it much easier for her to read. It was agreed that Mary will be sorely missed and that the group will need to club together to continue her hard work.
'Get out a fresh sheet of paper and a pen and compose a letter that might help unlock doors.' - Stephen Fry
At the end of last year we marked International Human Rights Day by taking part in Amnesty International's Write for Rights on December 10th. Members of the group composed their own letters about abuses of human rights, highlighting the cases of Natalia Estemirova, Afghan Women's Network (AWN) and Iwao Hakamada.
At this stall volunteers also took a total of £48 in donations – a remarkable figure that really helps with the ever-increasing cost of postage. Keep it up!
The group got festive on 7th December when many members braved the cold and the crowds at Hammersmith Broadway to sing carols for the enjoyment and, at times, bemusement of passing commuters. A Christmas gathering was then generously provided by the Books for Amnesty shop. This was a fantastic opportunity for volunteers from the Group and the Shop to celebrate together with a festive tipple and a pie or two. Along with the news that the Group's bucket-shaking and chorus-making had made an impressive £203, we were all left feeling merry and bright. 
At our January meeting, as part of the Greetings Card Campaign 2011, we wrote messages of support on recycled Christmas cards to be sent to prisoners of conscience, families whose relatives have disappeared and people in danger for defending human rights. We will continue to rally support at our January stall when we will be asking the public to write messages for Chen Guangcheng & Yuan Weijing, Ferhat Gerçek, Christi Cheramie and Fatima Hussein Badi.
You will be glad to know that another prisoner on the Greetings Card Campaign list, Jabbar Savalan from Azerbaijan, was released in time to spend New Year's Eve with his family. Savalan, who was initially arrested and accused of drugs possession, a day after he posted on Facebook calling for Egypt-inspired protests against the government, was released following a presidential pardon  on 26 December.
10TH 'ANNIVERSARY' OF GUANTANAMO BAY
11th January saw the tenth "anniversary" of the first detainees being transferred to the notorious US detention centre, Guantanamo Bay. Despite President Obama's pledge to close Guantánamo by 22 January 2010, 171 men are still being held at the camp having never been charged with a crime and not knowing when they will face trial, if at all. Indefinite detention without trial violates international human rights law. After ten years of absurd injustice, we need to put pressure on President Obama to close Guantanamo for good – if you have not already done so, please sign the online petition on the Amnesty International website.
UPCOMING HAMMERSMITH AND FULHAM EVENTS
Greetings Card Campaign stall: Saturday 28th January.
Next meeting: Monday 13th February. Amnesty Bookshop, King Street, 8pm.
UPCOMING AMNESTY INTERNATIONAL EVENTS
Demonstrate for a human rights revolution: Sat 11th February 2012
There will be a demonstration at Trafalgar Square between 12am-2pm to show support for peaceful protestors across the Middle East and North Africa who are demanding an end to poverty, corruption, discrimination and repression.
View latest posts