Palestinian woman from Israeli Committee Against House Demolitions UK speaks at Farnham AI meeting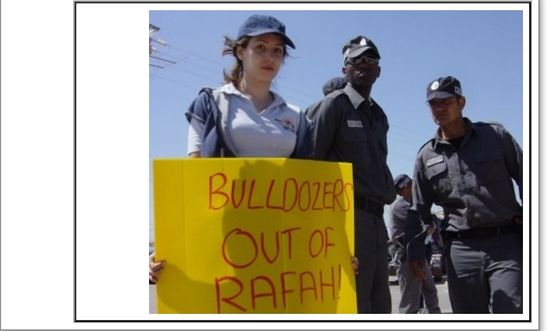 Elizabeth Jadon in 2004, aged 19, at at an activists' non-violent occupation of the Rafah checkpoint in Israel for south Gaza
Farnham Amnesty Group were delighted to host a talk at St Andrews Church by Elizabeth Jadon, an Anglo-Palestinian raised in Beitr Hanina, East (Arab) Jerusalem.
Elizabeth (aged 29) came to talk about why she had been drawn to be active with an organisation founded by  Israeli Jews, including Nobel Peace Prize nominee Jeff Halper, The Israeli Committee Against House Demolitions (ICAHD).
A good number of people attended, 30 plus. Extra chairs had to be squeezed into the St Andrews Pavilion.
She began by explaining the mechanics of oppression used by the israelis in their systematic demolitions of homes of Palestinians not in any way involved in armed resistance to the israeli "occupiers". Then she moved on to speak with courageous candour about her inner world, drawing her audience into her struggles for self-knowledge, and emotional and psychological healing after the formative influences of growing up in a land dominated and divided by the Israeli forces of occupation, denied many of the freedoms we expect as youngsters and experiencing consistent bad things happening between human beings.
In a Q & A session, questions were fielded with the same thought, intelligence and honesty.
Elizabeth's personal story, told with such openness, made a powerful impression on audience members. Old Farnham Group hands called it one of the best meetings which they could remember.
Below, is a link to a video with Salim and Arabiya Shawamreh's story of their home demolished, and the work of ICAHD in its non-violent political resistance to home demolitions, including scenes from one of their annual Rebuilding Camps.
View latest posts