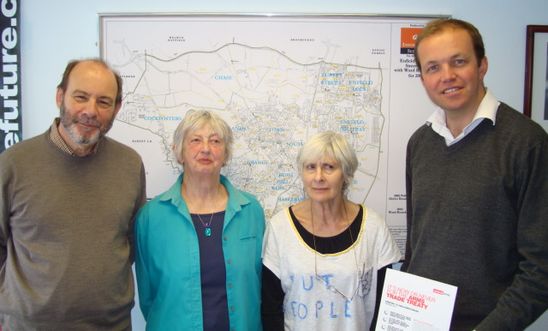 Group members meet David Burrows MP to discuss the Arms Trade Treaty
June was an exciting month for Enfield & Barnet AI with a visit to a local MP, the great banana shootout and a new prisoner in Burma to campaign for.
Control Arms
Activity is increasing with the new Arms Treaty due to be debated in New York in the first week in July.
The Great Banana Shootout
50 activists. Two dozen handmade bullet-proof vests. Three dozen bananas.
On the afternoon of Saturday 16th June, Amnesty International local groups from all over London combined the above during a protest in Parliament Square. The vests bore different messages in favour of a strong Arms Trade Treaty.
The aim was to add pressure to David Cameron to make a strong public statement in favour of a robust Arms Trade Treaty. The means was street theatre.
Playing on the absurd reality of having an international binding treaty that regulates the trade of bananas but not one for arms, groups enacted a symbolic act of street theatre, turning lots of heads and getting a great amount of pictures and video.
The final destination of those vests will be David Cameron.
Group members may spot Arlene in the video wearing a "bullet-proof vest" made by Francoise. See http://bit.ly/KQ83Vw
Enfield & Barnet AI meet David Burrows
On Friday 22nd June Arlene, Roger and Joy met with Enfield Southgate MP David Burrows to lobby him regarding the Arms Trade Treaty. Mr Burrows agreed to write to David Cameron asking him to advocate a strongly legally binding treaty.
Other local MPs have also been lobbied by letter and responded positively. A letter from the group advocating the treaty has also been submitted to the local press.
Burma
Following the release of Zarganar, the Burmese comedian, in October last year, we now have a new prisoner of conscience in Burma. Khun Kawrio, a leading member of human rights group Kayan New Generation Youth (KNGY) was arrested in May 2008 after campaigning against the new constitution and sentenced to 37 years imprisonment. Two other activists arrested at the same time were released in January 2012, but Khun Kawrio is still behind bars.
Read more here and please write letters on Khun Kawrio's behalf. Please also sign the AI petition calling for the release of all prisoners of conscience in Burma
View latest posts