ELY AI Group at London Zimbabwe Demo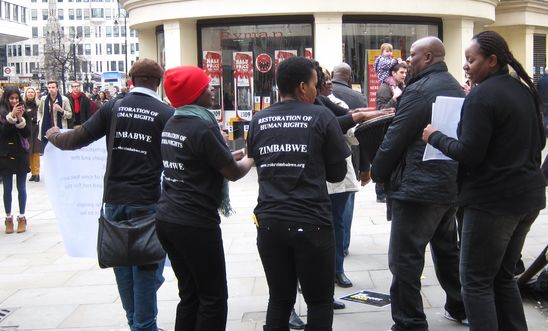 Two members of the AI Ely Group went down to London on Saturday (16 Feb) to join about 60 other Amnesty International members from around the country in front of the Zimbabwe Embassy.  A demonstration was being held in protest against police harassment of a womens' group in that country.
WOZA (Women of Zimbabwe Arise) was formed ten years ago to protest against police and regime attitudes to women there, and on celebrating their anniversary this St Valentine's Day they were again harassed by the authorities. The AI gathering outside the Embassy demonstrated the human rights organisation's sympathy and support for WOZA.
Numbers of passers-by in The Strand took leaflets and photographed of the demo and members of ROHR (Restoration of Human Rights Zimbabwe) when they began dancing to a drum. Red roses were laid on an entrance to the Embassy in tribute to the brave women of Zimbabwe, who have suffered much under the authoritarian governance of the Mugabe regime.
Photo:
– One member of ROHR held a drum while another raised a beat for the rest to dance to, attracting passers-by to read messages of protest and support
View latest posts