Palestinian Prisoners' Day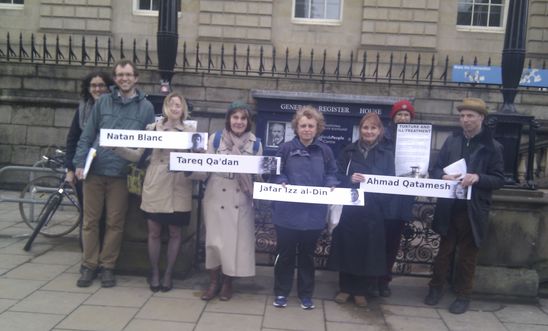 Campaigning for people held in administrative detention in Israel
Under administrative detention, Israeli military orders allow the authorities to detain Palestinians from the occupied West Bank without trial, indefinitely if they are deemed to be a "security threat".
We wrote letters on behalf of four prisoners, Natan Blanc, Tareq Qa'dan, Jafar Izz al-Din, Ahmad Qatamesh. Some are currently desperately ill and require medical attention. Hunger striking is now widespread among those under administrative detention to raise awareness of the conditions they are being held under. A report published by Amnesty International last year describes these issues in detail.
The St. Mark's group held a vigil and petition-signing at the West end of Princes Street on Wednesday 17th April to raise awareness and get signatures on the four letters.
Breaking news: On the evening of our vigil, Palestinian prisoner and hunger striker Khader Adnan was released. 
Background: The Palestinian hunger strikers are asking for an end to solitary confinement, for all prisoners and detainees to be allowed family visits. Since June 2007 such visits have been banned for prisoners and detainees from the Gaza Strip in violation of international law. More than 320 Palestinians, including some 24 members of the Palestinian Legislative Council, are currently being held in administrative detention. Often, on release, prisoners are deported to Gaza (rather than back to their homes in the West Bank). Amnesty International suggests that such deals may constitute forcible deportation, which would be in breach of the Geneva Conventions.
View latest posts