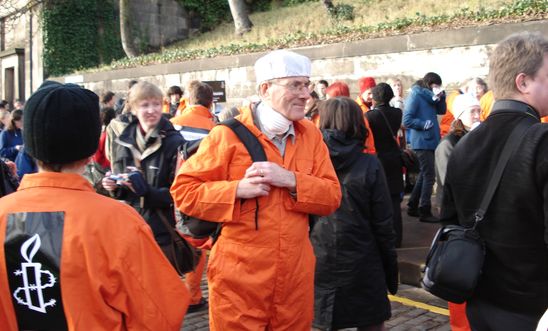 Guantanamo Demo
Welcome to Amnesty Edinburgh South Group
The Group meets on the first Sunday of each month in the Newington Room of Mayfield Salisbury Church 18, West Mayfield, EH9 1TQ. at 6pm
At present we mostly campaign on the Central and South American Republics.
We are supporting particularly Yolanda Oqueli who campaigns in Guatemala to have the legitimate rights of indigenous people respected by the Government and mining companies.  Yolanda has been shot and wounded because of these campaigns but bravely carries on. 
We invite speakers to tell us about human rights in other countries most recently in Palestine and China.
We are also a successful fund raising Group - our Ceilidh which is held in March each year is very popular.
Two of our memmbers regularly give talks on Amnesty topics to schools and other organisations.