Afro beats of Samba Sene & Diwan drum up aid for human rights at the BONGO CLUB in Edinburgh on SATURDAY 12 October 2013 starting 7pm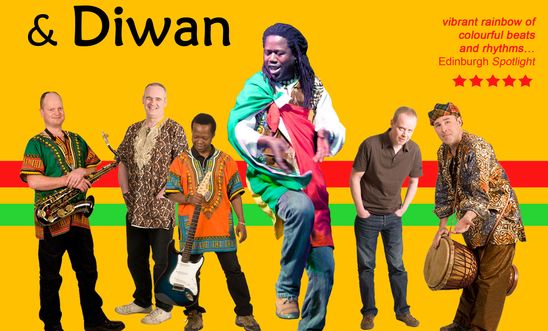 The popular Scots-based Senegalese singer Samba Sene and his band Diwan play a very special gig at Edinburgh's Bongo Club on Saturday 12 October. The evening is in aid of Portobello Amnesty International Group.
The fund-raiser has a suitably international flair to it. Samba Scene, who came to Scotland from his native Senegal ten years ago, fronts a band which attracts such critical plaudits as "uplifting and life-affirming", "upbeat world music with a Senegalese soul" and "grooving ... African party central". Expect exuberant Senegalese fusion, funky Afro beats and a touch of ska with irresistible dance grooves.
The Bongo Club***, the adventurous multi-arts venue run by the Edinburgh arts charity Out of the Blue, is at 66 Cowgate, EH1 1JX. Tickets for the event are £7 in advance or £8 at the door. See www.bongoclub.co.uk or tel: 07910 985187
Alternatively contact :
1) Mary Jane Elton on 0131 669 5129 or maryjcamell@gmail.com or
2) Cathy Crawford on 0131 620 0552 or crawfordcathy@hotmail.com.
***The Bongo club is at the Grassmarket end of the Cowgate. Go along the Cowgate or go down Victoria Street and turn left onto the Cowgate then go 200 yards. The club is down the alley adjacent to the archway. The number is 66 but the name is better visable.
View latest posts