Concert for Captured Hearts - Stop Human Trafficking in Scotland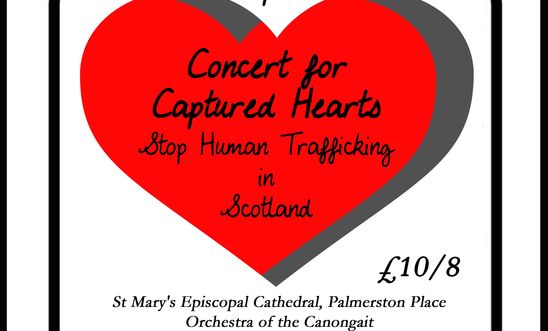 Sunday 15th February at 8pm
St Mary's Cathedral, Palmerston Place 
Orchestra of the Canongait 
Robert Dick conductor, Lindsay Martindale and Asher Zaccardelli soloists 
Strauss Don Quixote, Dvorak New World Symphony 
Come along to this wonderful concert and support the Human Trafficking bill which has not yet been passed in the Scottish Parliament. 
Last year, Jenny Marra MSP Labour consulted on a bill that incorporated most of the commission's recommendations. First Minister Nicola Sturgeon announced this year that the Scottish government would bring forward measures to improve how Scotland deals with human trafficking and exploitation, to make sure Scotland remains, "a hostile environment for human traffickers, while continuing to support the needs of victims."
    Jenny Marra said: "I have always had a strong admiration for the work Amnesty International do and events like the 'Concert for Captured Hearts' brings human trafficking and its victims to the forefront of people's minds – incredibly important given the growing numbers of people being trafficked in Scotland and across the UK."
    Trafficking victims are in our communities, urban and rural. They are brought to this country – many on the promise of a better life – and are held and exploited. Many are sexually exploited, and many are held for forced labour at no or little pay in awful living conditions. We must work together to tackle this and support the victims of human trafficking across the UK." 
    Justice Secretary Michael Matheson said: "Human trafficking is very much a hidden crime which often goes on behind closed doors. Victims can face horrendous suffering and there is no place for it in modern society.
    The Scottish government is committed to bringing forward laws which, while focusing on the needs of victims, also mean that those who seek to peddle human misery will also face the toughest possible penalties.
    The work being done by Amnesty to raise awareness of the evils of human trafficking and exploitation is vitally important and I fully support this event taking place. Working together is the only way we can rid Scotland of the scourge of this awful crime."
View latest posts