Campaigning on Scottish gypsy travellers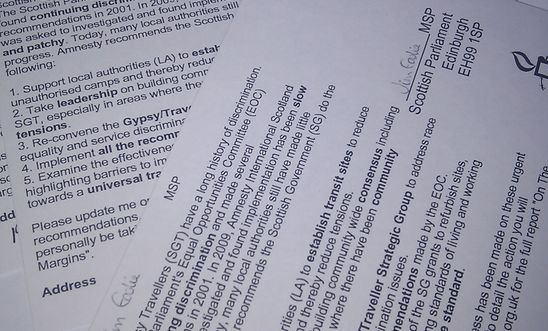 Earlier in the year we held a pub quiz and had a stall to raise awareness about the issues surrounding Scottish Gypsy Travellers. We petitioned our MSPs with the following letter:
Scottish Gypsy Travellers (SGT) have a long history of discrimination. The Scottish Parliament's Equal Opportunities Committee (EOC) found continuing discrimination and made several recommendations in 2001. In 2009, Amnesty International Scotland was asked to investigated and found implementation has been slow and patchy. Today, many local authorities still have made little progress. Amnesty recommends the Scottish Government (SG) do the following: 1. Support local authorities (LA) to establish transit sites to reduce unauthorised camps and thereby reduce tensions. 2. Take leadership on building community wide consensus including SGT, especially in areas where there have been community tensions. 3. Re-convene the Gypsy/Traveller Strategic Group to address race equality and service discrimination issues. 4. Implement all the recommendations made by the EOC. 5. Examine the effectiveness of the SG grants to refurbish sites, highlighting barriers to improving standards of living and working towards a universal transit site standard. Please update me on what progress has been made on these urgent recommendations. I also ask you to detail the action you will personally be taking. Visit amnesty.org.uk for the full report "On The Margins".
We posted cards (see attachment) from 41 members of the public to 17 different MSPs. Since then (quoting the Amnesty article):
Across six months in late 2012- early 2013 the Scottish Equal Opportunities Committee conducted an investigation into the living conditions of Scottish Gypsy Travellers - Where Gypsy/Travellers Live This concluded in the publication of a report by the committee which found that little had changed since the previous update in 2004. Many Scottish Gypsy Travellers continud to live in horrendous conditions, with inadequate access to services and continuing prejudice. We continue to call for national action across Government departments and for the Government and COSLA to work together to ensure a national strategy is planned and delivered on the ground. We're also in the early stages of a campaign for zero tolerance of prejudice, with a focus on ensuring the Scottish media adhere to National Union of Journalist codes of conduct to deliver balanced reporting. We are going to be working with the Government, Government agencies and Third Sector groups in Scotland to bring an end to the human rights abuses which occur daily in the lives of Scottish Gypsy Travellers.
We'll be continuing to campaign on this issue.
View latest posts