Group Support to Hakamada Iwao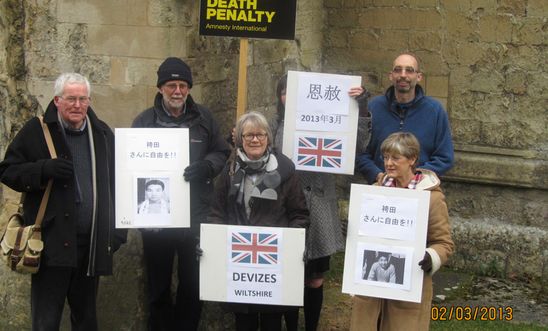 Devizes Group show solidaity with Hakamada Iwao © Mike McClelland
Members of Devizes Amnesty Group met on Saturday, 2nd March at St Mary's Church, Devizes to mark the birthday of 77-year-old Hakamada Iwao, believed to be the world's longest serving death row inmate.
Hakamada Iwao has spent 44 years in prison under the threat of execution for a crime he says he did not commit. He is the Devizes Amnesty Group's individual at risk. His 77th Birthday is on 10th March.
In 1968, Hakamada was convicted of murder on the basis of a confession which he later took back. We believe his trial was unfair and psychiatric examinations have shown he has a mental illness as a result of his years on death row. Hakamada has appealed his conviction twice without success, but new forensic tests have brought fresh hope.
The photograph of the show of support from Devizes Group has been sent to AI Japan and the following response received:
Dear Mike,
Thank you so much this is a really nice photo. Many people here can read it and also notice that it's from UK. Our event will start with opening remarks by Hideko Hakamada (sister of Iwao Hakamada). And there will be speeches from different organizations including AI Japan, handing out flyers and gathering petitions on the streets, so this will be a good visual to use there.
When I showed this to our web staff, she really like it because it shows warm solidarity. So I am wondering if it it possible to use this on our website and publication such as newsletter distributed to our membership in Japan.
Thank you again for you and your group members, and I will keep you posted about the event.
Best regards,
Hiroka SHOJI
AI Japan have been asked to pass a message to Hideko Hakamada that Devizes Group are thinking of her and her brother. AI Japan have been given permission to use the photograph.
View latest posts