Life Lines - Art Expo in support of Amnesty International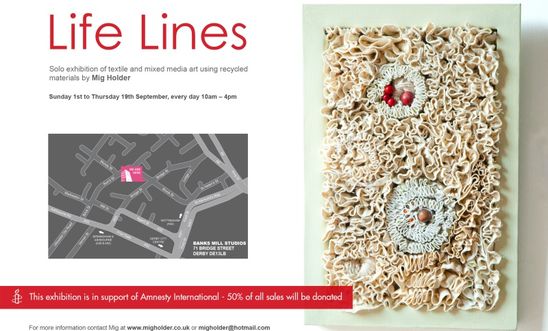 © Mig Holder
An AI member, Mig Holder, is having a solo show of her art work, Life Lines.  The exhibition features textile and mixed media art  and uses recycled materials.  It is to take place at Banks Mill Studios,  71 Bridge St. Derby, DE1 3LB between 1st and 19th September, daily 10am to 4pm.  Admission is free.  Mig is donating 50% of any sales to AI.   She is having postcards made of some of the pieces so these will be on sale as well as the major pieces.
If you would like to go to the Private View, which will take place on Sunday, 8th September, 4  -6pm. We would be delighted to send you an invitation.  We are anxious not to waste resources so that is why we are asking if you are free and like to go before sending an invitation!  We hope very much you will be able to visit the exhibition even if you are unable to go along on 8th Sept.
Solo exhibition of textile and mixed media art using recycled materials by Mig Holder
Sunday 1st to Thursday 19th September, every day 10am - 4pm
Banks Mill Studios 71 Bridge Street, Derby, DE1 3LB
This exhibition is in support of Amnesty International.  50% of all sales will be donated.
For more information, contact Mig at www.migholder.co.uk or migholder@hotmail.com.
.
View latest posts