Join the open meeting to set up a new Amnesty Colchester group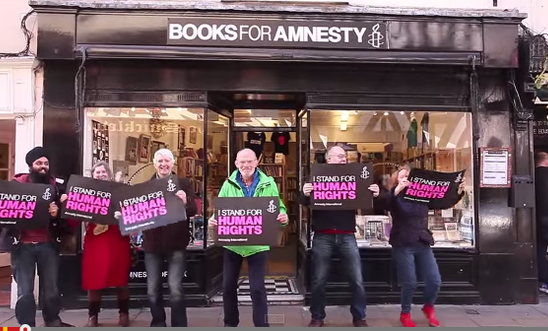 York Amnesty group showing that they stand for Human Rights
Thursday 25th June, 7:30pm, Society of Friends Meeting House, Church Street, Colchester CO1 1NF (behind the Odeon cimema on Head Street) 
Come to the open meeting and join the discussion about setting up a new Amnesty International Group for the Colchester area. In the UK Amnesty has a network of over 200 groups who give vital support to Amnesty's campaigns and play an important role representing Amnesty in their local community. Each group is unique and undertakes some or all of the following campaigning activities
- Fundraising
- Lobbying
- Awareness raising and actions
- Letter writing
As such groups make a difference in people's lives. Many groups contributed to the Amnesty's good news stories which are listed here .   
The new Colchester group could join campaigns such as "Stop Torture", lobby and take action to protect human rights in the UK, take on a long term case, campaign for women's rights or focus on any of the other campaigning areas.
To find out what groups do as well as the support that is available from the London Amnesty offices, please visit www.amnesty.org.uk/groups . 
To find out what some groups in the region do, have a look at the Ely group , Norwich group or Cambridge City group . As you'll see all groups are different and focus on different campaigns, depending on the interest of its members as well as the time that they have available.
At the meeting there will be a talk about Amnesty groups by Amnesty volunteers Liesbeth ten Ham, regional representative for East Anglia and by Stephen Broadhurst, member of the Ipswich group. 
If you would like to be involved, please come to the meeting as well as join the mailing list here. For further details please e-mail amnestycolchester@gmail.com or just come along to the meeting.
View latest posts