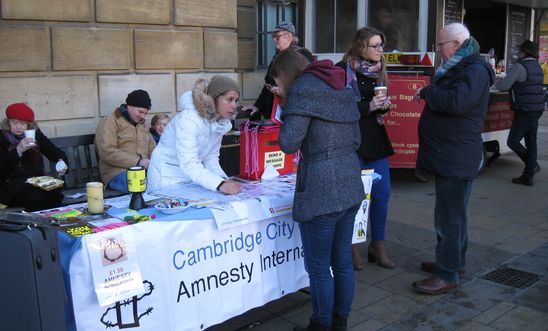 An Amnesty group campaigning and fundraising stall
Thank you for your interest in the Colchester local group of Amnesty International!
We meet regularly every month at the Quaker Meeting House, Church St, Colchester CO1 1NF.  We are the town group, as distinct from the Essex University or VI Form College groups, although we are keen to collaborate with them on emerging issues and events. We also have close links with the Ipswich group who we collaborate with too. We also have links with various refugee support groups in the town such as Refugee Action Colchester https://refugeeactioncolchester.org.uk/who-we-are/             .
Some of us have been involved in Amnesty's work for many years and have seen the difference that the campaigning by local groups make, both for individual victims of human rights abuse as well as through lobbying and raising awareness of human rights issues in local communities.  Others of us are new to Amnesty but are keen to develop the group and increase Amnesty's profile and the issues it raises in Colchester. 
We are currently developing the plan for our campaigning activities in 2018. Everybody's ideas and contribution, however small, will be valued and will make a difference, so please do join;or just come laong to a meeting to meet us and see what we do.
If you have questions or suggestions or if you cannot make the meeting, but would like to contribute, please get in touch by e-mailing us on amnestycolchester@gmail.com .
The purpose of this mailing list is to keep you informed of all the news with regards to the new Colchester group, including local meetings and campaigns, as well as national campaigns that you may be interested in. You can unsubscribe at any time.