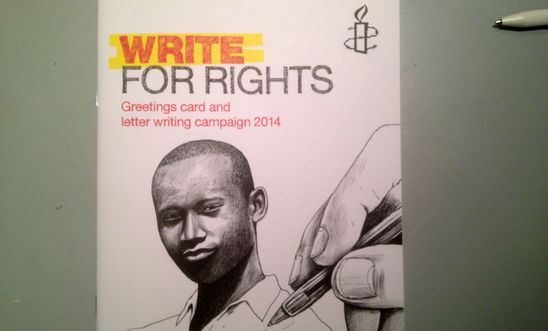 Greetings Card and Letter Writing Campaign
Please join us on Thursday 8th January when we shall be meeting in Chipping Norton's Lower Town Hall from 7:30 till 9:00 p.m. and signing as many cards as possible as part of Amnesty International's "Write for Rights" campaign.
Amnesty has identified 17 priority cases of "Individuals at Risk" of human rights abuse, including prisoners wrongly detained, families waiting for news of a relative who has 'disappeared', and survivors of abuse fighting for justice.  Priscilla has been busy making original cards for us to send from Chipping Norton.  Bring a pen and add your messages of support.
If you are doubtful that you can make a difference, be encouraged by the feedback from last year's campaign - 3 prisoners were released and many more people, at risk of human rights abuses, felt safer and more hopeful on receiving cards and messages from Amnesty International members and supporters.  Together we can make a difference!
View latest posts