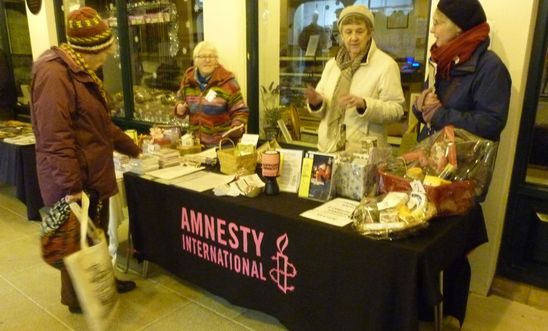 Heather, Kaye and Anthea and a mystery shopper at our stall
A relatively quiet Late Night Shopping event turned out to be good news for Chippy Amnesty. 
With less competition than last year, and the only raffle in town, we sold some 750 raffle tickets at £1 for a strip of 5.  All prizes have been gratefully received, often accompanied by cries of "but I never win"!  Many thanks to all who contributed prizes and to Heather who assembled the eye-catching hampers.
With the sale also of a few Amnesty Christmas cards and Indian newspaper bags, together with some donations to cover our postage costs, we made just over £200.   We also added to our tally of signed cards in our annual greetings card campaign, "Write for Rights".  We are pleased to report that Chipping Norton has sent more than 100 cards with messages of friendship, comfort and support to Prisoners of Conscience in various countries.
View latest posts