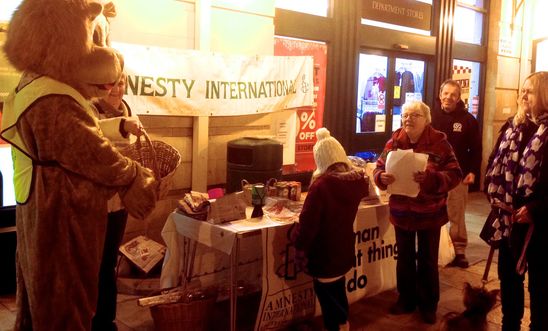 Leo the Lion draws the winning raffle tickets!
The winnner of our raffle, drawn by a friendly local Lion, was......Amnesty International!  Well done and thank you to our hard-working stall minders, to everyone who donated hamper items, and to Heather for creating such attractive-looking prizes.  In spite of the freezing conditions we sold £103 worth of raffle tickets and made another £39.27 from sales of seasonal goods and donations.
Also we were delighted to be visited by several local Amnesty Members.  They and other members of the public added their signatures to our petition asking the US to ratify the UN Convention on the Rights of the Child.  This is the world's most widely accepted human rights treaty but the US has yet to ratify it.  Let's hope they respond forthwith.
View latest posts